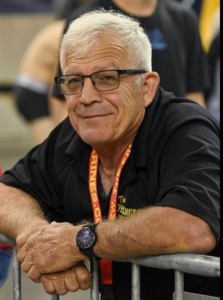 This is a challenging blog to write.  I am sure that you have heard by now that my friend, our friend Wyatt Schultz passed away last Saturday at the age of 68. Wyatt was a friend to all that knew him.  As a matter a fact when we would see him at an Iowa or Lisbon dual meet my dad Francis would always say:
"There's our friend Wyatt."
When I walked into a high school gym, Carver Hawkeye, or an arena in Iowa or across the country and saw Ole Wyatt I knew I was in the right place. Talking to Wyatt was always part of the wrestling event I was attending.  As soon as the wrestling was over Wyatt would get up from taking pictures matside and begin talking to people.  I used to tell him that he knew or at least knew of everyone in the wrestling family.  I mean wrestlers, coaches, parents, grandparents, fans. Everyone. This guy had an immense love of wrestling and of people.
The outpouring of heartfelt comments on Facebook and Twitter this week showed me just how many lives Wyatt touched. Born and raised in Postville, Iowa Wyatt never lost that connection to the small town and rural feel for wrestling in Iowa. It is only fitting that Wyatt will be laid to rest tomorrow in Postville, Iowa, his hometown. 
I had Wyatt come into my parents home in Lisbon to take family pictures in 1998.  After two hour he left knowing everybody as he had a way of getting to know people. Wyatt also took special pictures of my dad, brother and I at State wrestling in 2005 and in Omaha in 2010 when we were in town to watch Ryan Morningstar wrestle.  Another favorite is a picture Wyatt took of Ryan and I on the championship mat after he won a Junior National freestyle title in Fargo in 2005.  Those pictures are priceless to me.
People may not know of the commitment that Wyatt had in running The Predicament.  After an 8-10 hour shift of driving a delivery truck Wyatt would change shirts and head right to a wrestling meet on a weekday.  On weekends he would attend tournaments and find the time to keep The Predicament updated before he went back to work on Monday morning. 
Wyatt could not take a couple of days off for vacation so he would have to take an entire week of vacation.  So his week-long vacations were spent at the Iowa High School State Wrestling Tournament in Des Moines, the NCAA National Tournament somewhere across the country, and in Fargo, North Dakota for Cadet and Junior Nationals every year.  Working full time to keep The Predicament updated for fans. That is a total dedication.
I used Wyatt's pictures numerous times over the years and he would never take a penny for it.  I would simply state below his pictures: Photo by Wyatt Schultz.
Even though he tried to remain neutral I know Wyatt used to love the big Iowa dual meets in Carver because I used to tease him about it. He would be matside taking in all of the action and enjoying every minute of it. The last time I saw Wyatt was the night of the Iowa-Penn State dual meet on January 31, 2020. He was all smiles. Due to the restrictions we were unable to attend wrestling events all of last season.  A visit with Wyatt at a wrestling meet was long overdue. Now it will never happen.
Wyatt was a friend to all that knew him. Always quick with a smile, great energy, and a true passion for the sport and people of wrestling. 
Photographer, writer, publisher, podcaster, fan, mentor, friend, he did it all in his support of wrestling.
Wyatt was my friend and a mentor that I looked up to.
You do not replace a guy like Wyatt Schultz.
We lost a great man in the wrestling family and in life.
Rest well my friend, you are already missed.
God Bless.