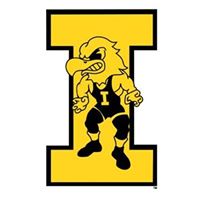 It was announced by InterMat that the University of Iowa will be competing at the 2021 National Duals. Iowa will be in a very competitive field of twelve teams that will compete on December 20-21 at Northwest Florida State College in Fort Walton Beach, Florida.  Five of the top seven teams from Nationals last year and Cornell lead the field. This will be the first National Duals since 2018.
These dual meets will provide Iowa a great opportunity to face competition that they normally do not see until Nationals and will be very, very important for seedings at Nationals.
Teams competing at 2021 National Duals and where they placed at the 2021 NCAA Championships
No. 1 Iowa
No. 4 Arizona State
No. 5 Michigan
No 6 North Carolina State
No. 7 Missouri
No. 15 Virginia Tech
No. 19 Northern Iowa
No. 22 Central Michigan
Cornell (Did not compete at 2021 NCAA's)
Hofstra
Lehigh
Oregon State
From Earl Smith of InterMat:
The twelve teams will be placed in four pools of three by seed but also avoiding conference opponents. On Day 2, winners of the pools will advance to a four-team bracket for semi's and finals to determine a National Dual Champion. The remaining schools will wrestle extra duals vs. teams of correlating pool placement.
Between transfers, redshirts, returning All Americans and National champions, this will be an absolutely loaded field of competition.  Cornell was unable to compete at Nationals last year due to a boycott by the Ivy League.  They will have a very strong team that will be highly ranked.
I have wanted to see Iowa wrestle UNI, Missouri, and Cornell for years.  Now we may see those matchups. A tip of the hat to Journeyman Wrestling for getting National Duals up and running again.  They certainly have a very talented twelve teams worthy of a title like National Duals and I am confident they will put on a great show.
Mark your calendar for Monday and Tuesday December 20-21.  Iowa Wrestling will be in some heated competition at National Duals to get us ready for the holidays.  This will be a great event to look forward to with a lot of great and entertaining college wrestling.
It is great to be an Iowa Wrestling fan.
Go Hawks!