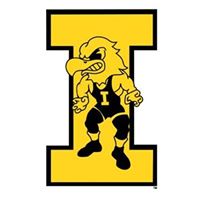 Vince Turk will be rejoining the Iowa Wrestling program.  Turk has been in the military which froze his eligibility clock.  He will have one year of eligibility to compete.  Turk was an NCAA Qualifier in 2018 at 141 lbs. His 3-2 record at Nationals saw him drop close matches to the eventual NCAA Runner-up and seventh place finisher.
Originally from Hampshire, Illinois Turk attended Montini Catholic in Chicago where he won two state titles, a runner-up finish, and a Cadet Greco Roman national title . Coming out of high school Turk was a Top 100 overall recruit in the country for the Recruiting Class of 2015.
After a redshirt year as a true freshman Turk was injured for his redshirt freshman season.  As a sophomore he posted a 15-10 record, placed fifth in the Big Ten and was an 2018 NCAA Qualifier at 141.  In his junior season Turk was at 149 where he dropped a 2-1 OT match to Pat Lugo for the varsity spot for the Hawks. 
While at Iowa Turk has been named Academic All-Big Ten three times and also named to the Dean's List. 
Turk will be at 149 this season and will be a major factor in the varsity spot for the defending NCAA National champion Iowa Wrestling team. Max Murin lost in overtime in the Round of 12 (Blood Round) at the NCAA's at 149 last year and was ranked as high as fifth at 149 last season.  This will be a real battle for the varsity spot at 149 that may come down to a coaches decision right before Big Tens.
It is competition like this for a varsity spot that reminds me of national championship Iowa Wrestling teams of the past.
It is great to be an Iowa Wrestling fan.
Go Hawks!