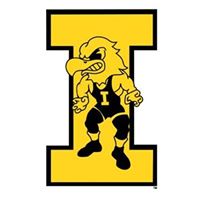 The University of Iowa released the non-conference portion of the 2021-22 Iowa Wrestling schedule.  As an Iowa Wrestling fan I have to say this is a great schedule.  After a full season of not being able to attend an Iowa Wrestling dual meet last year I cannot wait for the season to begin.
The Hawks start off the season with Princeton at home on November 17. The Ivy League did not have wrestling last season so Princeton will be extra fired up for this dual.  Princeton is an up and coming program that will provide tough wrestling to get the season going.  Oregon State comes to town over Thanksgiving weekend on November 27.  The Iowa-Iowa State dual meet is always something we all look forward to.  Hilton will have their best crowd of the year by far when the Hawks come to town for a visit on December 5.
Iowa will be returning to National Duals and what a tournament that will be.  North Florida will be the center of the wrestling universe on December 20-21.  Penn State was recently added to an already stacked tournament that will have six of the top eight teams from the 2021 NCAA Championships competing in a great two-day tournament.
The Hawks are scheduled for Midlands on December 29-30. Home duals against Minnesota (Jan 7) and Purdue (Jan 9) will get the new year started.  The following weekend Iowa will be on the road at Northwestern (Jan 14) and Illinois (Jan 16).  Any dual meet at Ohio State is always tough and competitive for the Hawks on January  21.
The first thing I looked for when the Big Ten released the conference dual meet schedule.  Penn State will travel to compete in legendary Carver-Hawkeye Arena on Friday, January 28. That will be a quick sellout so get your tickets now.
Iowa finishes up their home schedule by hosting Wisconsin on February 5.  Oklahoma State released their schedule yesterday and caused quite a stir.  There are rumors that Iowa and Oklahoma State will wrestle at a neutral site. Possibly in Texas?  Like I said a lot of rumors.  We will know the specifics in due time.  Oklahoma State competed in the Grapple on the Gridiron at Iowa that set the all-time attendance record on November 14, 2015.  I have faith that Tom Brands and John Smith will come up with something special for wrestling fans on Saturday, February 12.
Nebraska will host Big Tens that will be an absolute dogfight as always on March 5-6. This tournament amazes me with the tough competition every single year.
The 2021 NCAA National Wrestling Tournament will be epic in Detroit, Michigan on March 17-19. I am expecting a tournament with multiple lead changes that will not be for the faint of heart. I can see the team title possibly going down to the last match of the tournament in the finals. Without a doubt the tournament will be a sellout and the potential to set records for viewers on TV.  It is going to be that type of tournament.
I will be right here all season long with this blog for what I believe may be the greatest season in the history of Iowa Wrestling.
2021-2022 Iowa Wrestling Schedule
Nov 19 – Princeton
Nov 27 – Oregon State
December 5 – at Iowa State
Dec 20-21 – at Rokfin/National Duals (Destin, FL)
Dec 29-30 – at Midlands
Jan 7 – Minnesota
Jan 9 – Purdue
Jan 14 – at Northwestern
Jan 16 – at Illinois
Jan 21 – at Ohio State
Jan 28 – Penn State
Feb 5 – Wisconsin
Feb 12 – at Oklahoma State
Mar 5-6 – at Big Tens (Lincoln, NE)
Mar 17-19 – at NCAA Tournament (Detroit, MI)
To order Iowa Wrestling tickets:
https://hawkeyesports.evenue.net/cgi-bin/ncommerce3/SEGetEventList?groupCode=WSEA&linkID=uiowa&shopperContext=&caller=&appCode=
Let's get 'em in the middle.
It is great to be an Iowa Wrestling fan.
Go Hawks!