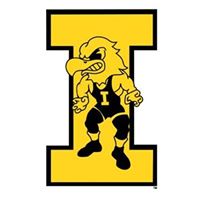 University of Iowa fans got some great news Sunday afternoon.  Elite recruit Ben Kueter of Iowa City, Iowa (City High High School) announced on social media that he committed to both Iowa Wrestling and Iowa Football.  That is a very rare thing to see in this day and age of specialization but Kueter is a special athlete. Just a junior, Kueter will be a member of the Iowa Wrestling and Football Recruiting Class of 2023.
In wrestling Kueter is already an undefeated two-time State champion by winning a title at 160 lbs. as a freshman and at 195 lbs. last season. Kueter placed second at 220 lbs. at Junior National Freestyle in Fargo last summer. He also trains and competes for Sebolt Wrestling Academy.  That is always a huge plus when evaluating a recruit.
I have been going through my memory banks and I have never seen an elite wrestling recruit that reminds me of Ben Kueter as an overall athlete.  I have never seen anything like him. After competing in the finals of Junior Nationals last July, Kueter played in the 4A sub-state finals playoff baseball game for City High the very next night.  For the season Kueter hit .333. Kueter also caught my eye for track when he ran the second leg of a medley relay team that placed second at the Drake Relays last April.
On the football field Kueter had a great sophomore season last year at linebacker.  This season he is absolutely tearing it up.  On defense Kueter is controlling the game and on offense he is showing that track speed as a standout receiver. D-I offers have been coming in every week so far this season.
At 6'3" and growing Kueter was wrestling at 160 lbs. a year and a half ago. Now he is at 220 lbs. and still developing as an athlete with a great future. It is hard to believe that just in the early part of his junior season Kueter has a lot of high school competitions ahead of him in four sports.
I saw a picture on Facebook from his visit to Iowa Football this weekend. Kueter posed for a picture with fellow Iowa native Dallas Clark who was an All American tight end at Iowa and All Pro in the NFL. Iowa Football is known for tight ends.
For wrestling Kueter has all of the potential in the world to be an elite Hwt. Kueter reminds me of a Stephen Neal type of athlete that will be 250 lbs. and be the best athlete at the NCAA's.  Neal was a two-time NCAA champ at Cal-Bakersfield, a World Champion Hwt in Freestyle, and then played on three Super Bowl winning teams with the New England Patriots even though he did not play college football.
As I said earlier I have never seen anything like Ben Kueter. If anybody can play football and wrestle at Iowa at the same time, it is Kueter.
Welcome aboard as an Iowa Hawkeye Ben Kueter.  It will be great as a fan watching the career of this special athlete.
It is great to be an Iowa Wrestling fan.
Go Hawks!