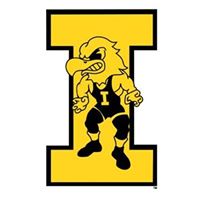 Our next Hawkeye new to the program is transfer Brennan Swafford. On April 28 Swafford announced that he was transferring from Graceland to the University of Iowa to complete his career. Swafford was a two-time NAIA national champion and three-time All American at Graceland.  He placed seventh at 165 as a freshman and won a national title at 165 as a sophomore. He was 22-0 last season and won a national title at 174 and was named as the Heart of America Conference Wrestler of the Year.
At Graceland Swafford was twice named to the NWCA All Academic Team.  Swafford will have two years of eligibility remaining and has not used his redshirt season.  
Swafford is originally from Mediapolis, Iowa.  If you know one family name for wrestling from Mediapolis it is Swafford.  The Swaffords have been known as good wrestlers for years. Mediapolis also has a good wrestling tradition and Swafford was a member of the 2015 state championship team. Coming from a program and family that is strong in wrestling is always something I look for. 
In high school Swafford was a four-time state medalist, two-time finalist, and had an overall record of 194-22. While placing as a state runner up as a junior at 152 and senior at 160 Swafford had a 100-5 record. 
Brennan Swafford could have returned for his senior year to Graceland as a two-time defending national champion and decided to transfer to be a member of the legendary Iowa Wrestling program.  I have to respect that. That is someone you want in your program.
When you factor everything in with his wrestling background, academics, and transfer situation, Brennan Swafford is a real good addition to the Iowa Wrestling program.
It is great to be an Iowa Wrestling fan.
Go Hawks!