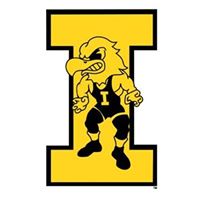 Of the four incoming scholarship wrestlers for the Iowa Wrestling Recruiting Class of 2021, the least known is Sebastian Robles of Tucson, Arizona.  Robles won a state title at 145 lbs. in 2020 with a 44-4 record and a title at 160 lbs. this past season with a 12-0 record. 
Robles committed to the University of Iowa on April 25 this year. He is listed at 5'9" and is projected to compete at 157/165.
Robles is definitely from a talent rich program in Sunnyside High School.  Sunnyside has been producing D-I talent for decades and has won 34 team titles since 1979 and won the last two titles.  This is the same program that sent us redshirt freshman Jesse Ybarra last year.  Sunnyside has now produced four Big Ten wrestlers in the last four years in Roman Bravo-Young at Penn State, Anthony Echemendia at Ohio State, and Ybarra and Robles at Iowa.  
The Robles family has a strong wrestling tradition.  Sebastian's dad Fred was a member of the 1985 and 1986 state title teams, his older brother Rico was a state champ in 2019 and an uncle won a state title in 1981. All at Sunnyside. Sebastian Robles has grown up in a traditional powerhouse program and family that is accustomed to winning titles. That is a great background to have as an Iowa wrestler.
Robles did not start at Sunnyside as a sophomore and is still developing at a high level. He rose through the ranks quickly over the last two years and is the product of success as a tradition. It will be interesting to see how Robles develops in the Iowa program. He certainly has a background of winning and is in a great environment to continue to do just that.
It is great to be an Iowa Wrestling fan.
Go Hawks!