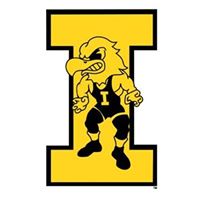 Wyatt Henson was the first recruit to commit to the Iowa Wrestling Recruiting Class of 2021. His commitment came on October 20, 2019 on the huge recruiting weekend of the year. Henson comes into the Iowa Wrestling program with a great background for the sport of wrestling. As a freshman Henson placed fifth for Waynesburg Central High School in Pennsylvania.  He then captured a Missouri state title for Christian Brothers in St. Louis in his sophomore season. Henson then returned to Waynesburg and won a state title in his junior and senior year.
Throughout his entire high school career Henson has competed on a national level tough schedule that included the toughest high school tournaments in the country.  Facing that consistent elite competition in high school will definitely help in college. I have been impressed with how Henson competed against older opponents in Open division tournaments in high school and had quality wins over D-I caliber competition.
In freestyle Henson placed third nationally in both the Cadet and Junior level and has been rated in the top eight in his weight class nationally the last two years.
I have to mention that Henson had a pretty good coach to learn from in his dad Sammy Henson. Sammy was a two-time NCAA national champion, World champion, World Bronze medalist, and an Olympic Silver medalist.  Sammy was a teammate with Iowa Assistant Coach Terry Brands on the 2000 Olympic team.  
The background Henson has in the sport of wrestling is tough to beat.  That background should help as he transitions to college wrestling as an Iowa wrestler.
Henson won his state title at 145 lbs. this past season.  I see him at 141/149 for his career at Iowa. As with his classmates, Henson will be in a great environment with a loaded wrestling room this season to hone his skills as a redshirt.  Next year Henson will be right in the mix for the top spot at 141.
With Henson, Ayala, and Rathjen this freshman class has some real potential.  There will be a lot of holes to fill in the lineup next year due to graduation.  These three will have every opportunity to step right in as a freshman.
It is great to be an Iowa Wrestling fan.
Go Hawks!