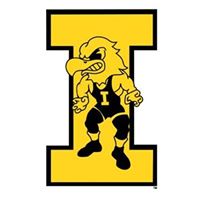 The University of Iowa made an announcement yesterday that was heard around the wrestling world. Iowa Athletic Director Gary Barta announced that the University of Iowa will be adding women's wrestling as an intercollegiate program.  The search for a head coach will begin this fall and competition will begin in the 2023-2024 season.
The massive reaction on Social Media has shown just how important of an announcement this truly is.  Women's wrestling has been exploding in popularity and is gaining more and more of a fan following in the United States and around the world.
Iowa Head Wrestling Coach Tom Brands:
"This is important to a lot of people for a lot of reasons," said Iowa head wrestling coach Tom Brands. "This is historic. This needed to happen and it's appropriate that it is happening first at the University of Iowa. There is no greater place in the world to wrestle than Iowa City, Iowa, and with our new wrestling facility we are prepared to offer world-class training for both our Hawkeye men and women."
A few thoughts about the impact of women's wrestling at the University of Iowa:
Iowa will be the first Power 5 Conference member to have women's wrestling.  It is very important for the growth of our sport to have exposure in the most elite wrestling conference in the country, the Big Ten.
Both Brands and Barta spoke of the new training facility. The new facility will be built with both the mens and womens wrestling team in mind. Barta was quoted online stating that construction will begin in the spring or summer of 2022.
Iowa has been a real leader in the support of women's wrestling in the Hawkeye Wrestling Club.  Lauren Louive was the first woman to join the HWC followed by Alli Ragan, Forrest Molinari, Kayla Miracle, and Michaela Beck. Ragan won a Silver at the World Championships and Molinari and Miracle made World Teams while in the HWC.
The HWC recently added three new members in Victoria Francis, Rachel Watters, and Jordan Nelson. The HWC support system is already in place to assist the new women's program.
Iowa Wrestling is a known brand throughout the world and the biggest name in the sport of wrestling in the USA.. The epicenter of wrestling in America is in Iowa City, Iowa. Love or hate Iowa Wrestling, that is the truth. The positive promotion for women's wrestling and the entire sport of wrestling from this move is huge.
Women's wrestling is contested in Freestyle, not Folkstyle.  I believe that will help grow women's wrestling at a quicker rate.  Women's wrestling is fun to watch.
Team USA had an amazing performance at the Olympics and Junior and Cadet Worlds for women's wrestling recently. That success and momentum of that success combined with the addition of Iowa Women's Wrestling is great timing.
Iowa Wrestling Camps broke the record for most girls at a wrestling camp this summer. For some reason the media did not promote this broken record.  Iowa Wrestling Camps have offered a stand alone camp just for girl wrestlers for years now.  Once again Iowa Wrestling was a leader in promoting women's wrestling.
One of the first people I thought of when I heard the news was Dr. Christine Grant.  Dr. Grant is a true legend and pioneer in women's sports.  She started the women's athletic program at the University of Iowa in 1973. Dr. Grant was the Athletic Director of the women's athletic department at Iowa from 1973-2000. Iowa was one of very few major college programs that had separate Athletic Directors for mens and womens sports.  Dr. Grant is also a wrestling fan. I do not believe you can mention women's sports at the University of Iowa without showing respect and recognition to Dr. Grant. As you can tell, I am a big fan of Dr. Grant.
The addition of women's wrestling should also help the University of Iowa land more national and International wrestling events.  Many wrestling fans were first introduced to women's wrestling at the Olympic Trials that were held in Carver-Hawkeye Arena in 2012 and 2016. Carver-Hawkeye Arena should be an even more enticing potential host for the Olympic Trials and even the World Championships after the new training facility is built.
With the new transfer rules Iowa could have a great women's wrestling team right away.  I can see numerous top college wrestlers wanting to finish their career at Iowa. For a recruiting pitch of the best training facility in the world, the best and most wrestling fans in the world, the HWC right there to continue on the International scene, the start of a new tradition, a Big Ten education, and so on.  I would think recruiting top quality wrestlers will not be a problem.
Former Iowa NCAA National champion Terry Steiner has been the head coach for the USA Women's program since 2002 and with great success.   Wouldn't it be great to get Steiner to come back home?
A few questions about the media. Will the Big Ten Network provide live coverage of Iowa Women's wrestling dual meets? Will ESPN or another network provide live coverage of the women's national wrestling tournament now because Iowa is involved?  The potential is endless.
Can you imagine a double dual for Iowa Wrestling?  Packing Carver-Hawkeye Arena for a women's dual meet followed by the mens team.  That would be a great evening or afternoon of wrestling.
I started attending women's college sporting events when I was a student at the University of Iowa.  I already spoke of Dr. Grant. Gayle Blevins, another legend, drew my attention to Iowa Softball. I followed the softball program real close throughout the Blevins era and began to follow other women's sports at Iowa. The University of Iowa is the perfect place to take women's wrestling to another level.
The University of Iowa has been paying their dues for women's sports for nearly fifty years. Combine that with Iowa being a wrestling state and the University of Iowa being a wrestling school and I see a ton of potential. The foundation for success is already in place.
I am excited about this new chapter as a lifelong wrestling and University of Iowa sports fan.
Let's get 'em in the middle.
It is great to be an Iowa Wrestling fan.
Go Hawks!