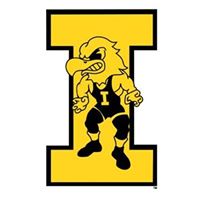 Make no mistake about it, this is a huge weekend for more than just Iowa Football.  The Hawks entertain Penn State in a matchup of top five ranked teams that is the premiere game of the week in all of college football.  Saturday will be the biggest home game in the Kirk Ferentz era and the biggest Iowa Football game since #1 Iowa-#2 Michigan in 1985. This will be the most watched college football game in the country this weekend. You just know the announcers will talk about Iowa Wrestling at least once during the game and have a wrestling clip to show the entire country. However there is a lot more on the line this weekend for everything that is the University of Iowa.
For starters let's talk about recruiting.  I posted here Monday that Iowa Wrestling is entertaining 18 recruits from around the country in their biggest recruiting weekend of the entire year.  What a great environment to bring recruits in to be a part of.  Iowa City will be buzzing with excitement this weekend and full of Hawkeye fans wearing Black and Gold. I am hoping we get news of recruits committing to the Iowa Wrestling program soon.  I will keep you up to date of any recruiting news right here.
https://iowawrestlingblog.com/2021/10/18-recruits-coming-to-town/
The number one recruiting service for Iowa Football stated that this will be the most star studded list of recruits to visit for Iowa Football in the Kirk Ferentz era.  There are also reports of big recruits coming in for basketball.  You could make a case that this will be the biggest recruiting weekend in University of Iowa sports history.
At least half of all the times I have talked to Dan Gable over the years the topic was business.  I always wanted to learn about the boosters and how the University of Iowa brought in money.  Gable told me numerous times how important the success of the Hayden Fry coached Iowa Football team influenced and benefitted not only Iowa Wrestling, but the entire University of Iowa.
As we all know money makes the world go around.  Gable told me about the incredible influence and results of the Iowa Football Rose Bowl appearances in 1982, 1986, and 1991. The Rose Bowl appearances were spaced apart and provided peaks in donations from boosters. A lot of buildings went up all over campus during the 1980's when the economy in the state of Iowa was terrible in part due to the farming crisis and high unemployment.  Even with those economic challenges, the University of Iowa upgraded not only their athletic facilities but academic buildings and programs as well in the 80's. It all works together. God Bless Hayden Fry for what he did for so many of us.
The effects of a shortened season and very few allowed fans saw a dramatic cut for incoming capitol that Iowa football, basketball, and wrestling brought in last year.  Athletic programs were cut and jobs were lost.  The timing of this weekend for fundraising could not come at a better time.
My sport, our sport of Iowa Wrestling, is influenced financially by Iowa Football.  When people complain about the salary of Kirk Ferentz I do not believe they understand that Iowa Football pays the bill for not only the entire athletic department but for a portion of the entire University. This was a point that Gable made to me numerous times over the years.  Just an added reason for Iowa Wrestling fans to cheer for the football program this Saturday and always.
The local economy of Iowa City and Cedar Rapids will see a much appreciated boost this weekend as fans roll into Iowa City for a big weekend of being an Iowa Hawkeye fan. The money being spent goes into the economy for local taxes, jobs, and prosperity.  That all comes back to help Iowa Wrestling and the University of Iowa in one way or another.
So recruiting and money is in the air at possibly a historic record level this weekend in Iowa City for the University of Iowa.  I for one am going to enjoy being an Iowa Hawkeye maybe just a little bit more this weekend and I hope you will as well.
It is great to be an Iowa Wrestling fan.
Go Hawks!