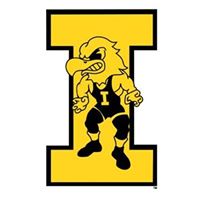 14 members of the University of Iowa Wrestling program will compete at the Southern Scuffle in Chattanooga, Tennessee. The competition will take place Saturday and Sunday January 1-2 at McKenzie Arena. First round action will be Saturday at 9 AM CST and the Finals will be Sunday at 6 PM.
The late addition of this competition is in response to the cancellation of the Midlands Championships and Hawkeye Open.
Live results are available at arena.flowrestling.org. A live video stream is available at FloWrestling.org.
Drake Ayala – 125*
Charles Matthews – 133
Cullan Schriever – 133*
Drew Bennett – 141
Wyatt Henson – 141*
Leif Schroeder – 141
Caleb Rathjen – 149*
Bretli Reyna – 149*
Sebastian Robles – 157*
Joe Kelly – 165
Patrick Kennedy – 165*
Jack McClimon – 165*
Brennan Swafford – 174
Aaron Costello – 285
*unattached
Southern Scuffle Schedule – All times listed are CST.
Saturday, January 1
Pigtails and Championship Round of 32  – 9 AM
Championship Round of 16 – 1:15 PM
Quarterfinals and Cons – 6:30 PM
Sunday, January 2
Consolations – 10 AM
Championship Semifinals – Noon
Consolations Semifinals – 2 PM
Championship Finals & Medal Matches – 6 PM
2022 Southern Scuffle Participants
Air Force
Appalachian State
Bellarmine
Buffalo
Cal State Bakersfield
Chattanooga
Columbia
Cornell
Davidson
Drexel
Duke
Gardner Webb
George Mason
Little Rock
Maryland
Michigan St.
Minnesota
Missouri
North Carolina
North Carolina State
North Dakota State
Northern Colorado
Oklahoma State
Rider University
South Dakota State
Stanford
The Citadel
Virginia Tech
VMI
West Virginia
It is great to be an Iowa Wrestling fan.
Go Hawks!