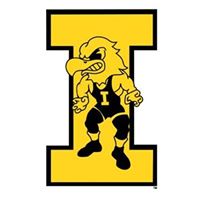 Iowa will be competing in the Collegiate Wrestling Duals in Niceville, Florida today and tomorrow. Iowa will face Central Michigan at 6 PM and Lehigh at 8 PM later today. With two wins Iowa will probably face the winner of #6 North Carolina State and #10 Missouri at 5 PM Tuesday. All times are CST.
I made a list of all the potential ranked wrestlers that Iowa will face. Tony Cassioppi at Hwt will have the toughest competition for the Iowa Hawkeyes. Cassioppi will face ranked opponents in all three dual meets. On the opening day #6 Cassioppi will face #9 Matt Stencil of Central Michigan followed by #8 Jordan Wood of Lehigh. On Tuesday Cassioppi will probably face either #28 Owen Trephan of NCST or #16 Zach Elam of Missouri. This will be great competition for Cassioppi. Each match is important for seedings at the NCAA Tournament.
The opening dual meet against Central Michigan will also find #2 Jaydin Eierman facing #7 Dresden Simon at 141. #8 Kaleb Young will face #19 Johnny Lovett at 157.
There will be several really great matchups for Iowa against either North Carolina State or Missouri. Let's take care of business today and I will have a preview blog for Iowa's dual meet on Tuesday.
You can watch all of the dual meets in the Collegiate Wrestling Duals on the Rockfin premium service:  https://rokfin.com/ppv/1/Collegiate-Wrestling-Duals?post=49093
Monday, December 20
Iowa – Central Michigan  6PM
Iowa – Lehigh  8PM
Tuesday, December 21
Iowa – Probably the winner of NC State and Missouri  5PM
*****All Times CST.
*Rankings by InterMat.
125  Spencer Lee – 1st
133  Austin DeSanto – 3rd
141 Jaydin Eierman – 2nd
149 Max Murin – 8th
157 Kaleb Young – 8th 
165 Alex Marinelli – 1st
174 Michael Kemerer – 2nd
184 Myles Wilson – 28th
197 Jacob Warner – 7th
Hwt Tony Cassioppii – 6th             
Team Tournament: #1 Iowa , #6 North Carolina State, #10 Missouri 
Team Dual Meet – #1 Iowa , #5 North Carolina State, #10 Missouri
Ranked wrestlers of Central Michigan, Lehigh, North Carolina State, and Missouri:
125 – #11 Jaret Lane (Lehigh), #5 Jakob Camacho (NCST),  #15 Noah Surtin (Missouri)
133 – #24 Malyke Hines (Lehigh), #17 Kai Orine (NCST)
141 – #7 Dresden Simon (C.Mich), #16 Ryan Jack (NCST), #14 Allan Hart (Missouri)
149 – #30 Manzona Bryant (Lehigh), #3 Tariq Wilson (NC State), #18 Josh Edmond (Missouri)
157 – #19 Johnny Lovett (C Mich), #10 Josh Humphreys (Lehigh), #15 Jarrett Jacques (Missouri)
165 – #27 Brian Meyer (Lehigh), #18 Thomas Bullard (NCST), #3 Keegan O'Toole (Missouri)
174 – #5 Hayden Hidlay (NCST), #14 Peyton Mocco (Missouri)
184 – #3 Trent Hidlay (NCST), #11 Jeremiah Kent (Missouri)
197 – #15 Isaac Trumble (NCST),  #4 Rocky Elam (Missouri)
Hwt – #9 Matt Stencel (C. Mich), #8 Jordan Wood (Lehigh), #28 Owen Trephan (NCST), #16 Zach Elam (Missouri)
It is great to be an Iowa Wrestling fan.
Go Hawks!