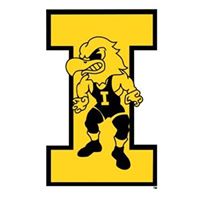 The University of Iowa announced the Dean's List for the 2021 Fall semester. To qualify a student must have a minimum 3.5 GPA on 12 semester hours or more of graded coursework. I went through the list of nearly 1,800 students to highlight the wrestlers that were named for this honor.
Seven members of the Iowa Wrestling team made the list. 
Dean's List for the 2021 Fall Semester
Drake Ayala – Open major
Drew Bennett – Interdepartmental Studies of Business
Zach Glazier – Business
Joe Kelly – Computer Science and Engineering
Charles Matthews – Finance
Cullan Schriever – Sports and Recreation Management
Leif Schroeder – Open Major
Iowa Wrestling is getting it done in the classroom and on the mat.
It is great to be an Iowa Wrestling fan.
Go Hawks!