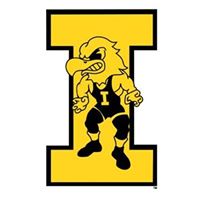 Gabe Arnold just announced on the USA Wrestling Mat Chat Podcast with David Mirikitani that he has committed to the University of Iowa. Arnold is in the Recruiting Class of 2023 and is projected to compete at 174/184. This is great news Iowa Wrestling fans.
Arnold is currently ranked #5 at 170 lbs. by MatScouts. Originally from Kennesaw, Georgia, Arnold attends national powerhouse Wyoming Seminary College Preparatory School in Kingston, Pennsylvania. SEM has the toughest schedule in the country and faces the best of the best in high school competition. 
Arnold was in the group of 18 wrestlers that were in Iowa City on October 8-10 last Fall. Iowa Wrestling has now received a commitment from 14 of the 18 recruits that were in town that weekend. I would call that an epic recruiting weekend.
Iowa fans will really get behind Arnold who is always moving forward and attacking. Arnold also has a trait that is in my opinion not mentioned nearly enough when evaluating recruits. Gabe Arnold is strong. I am a huge fan of strength and always like strong wrestlers representing Iowa Wrestling.
Iowa received a commitment from Recruiting Class of 2022 member Kolby Franklin also of SEM on November 1. I have mentioned several times on this blog how I hoped Franklin was the first of several SEM wrestlers to make their way to Iowa City to be a Hawk. Iowa now has Franklin and Arnold. Now I am hoping that Meyer Shapiro of SEM (Class of 2023) joins his teammates in Iowa City to be a Hawk as well. 
The Recruiting Class of 2023 is already the best junior class to commit in the history of Iowa Wrestling. The National Letter of Intent Signing Day for the Class of 2023 is Wednesday, November 9, 2022.
I will now follow Arnold's matches on my "Recruits in action" and "Results for recruits in action" weekly blogs with a preview schedule and follow up for results.
Welcome to the Iowa Wrestling Nation Gabe Arnold.
What a great way for Iowa Wrestling to begin the new year.
*Rankings by Willie Saylor of MatScouts
Iowa Wrestling Recruiting Class of 2023
Nate Jesuroga
Southeast Polk HS, Iowa
State champ, 3rd place
2021 Cadet World Bronze medalist at 51kg/112 lbs. 
#3 P4P
#1 at 126 lbs.
Ryder Block
Waverly-Shellrock HS, Iowa
State champ, State runner-up
#14 at 138 lbs.
Gabe Arnold
Wyoming Seminary HS, Pennsylvania
Cadet FS & G-R national champ
14U FS & G-R national champ
#5 at 170
Ben Kueter
City High HS, Iowa
2X undefeated state champion
Junior National runner-up
#3 at 220 lbs.
It is great to be an Iowa Wrestling fan.
Go Hawks!