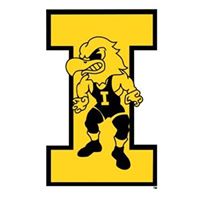 There will be a Hawkeye Wrestling Club Social Friday beginning at 5 PM at Joe's Place in Iowa City. Joe's Place is at 115 Iowa Avenue in downtown Iowa City.
There will be drink specials, raffles, and members of the HWC. The meet will be shown on big screens for those that are unable to obtain a ticket to the sold out meet.
#2 Iowa will face #1 Penn State at 8 PM in Carver-Hawkeye Arena.
Following the meet there will be a H.A.W.K. Party at the Coralville Radisson in the Kinnick Room. The Coralville Radison is located at 1220 1st Avenue just North of I-80 at Exit 242.
The Hawkeye Area Wrestling Klub (H.A.W.K.) began in 1978 and is the oldest college wrestling fan support organization in the country. Attending a H.A.W.K. Party is a big part of the Iowa Wrestling experience for a big dual meet. I have great memories of attending these parties over the years.
I have no doubt that Iowa City will be buzzing with excitement for this big #1 vs. #2 dual meet that is the elite event of the entire college wrestling regular season.
It is great to be an Iowa Wrestling fan.
Go Hawks!