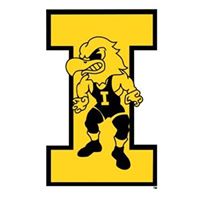 InterMat released their new rankings today. 
There have been some changes in the rankings in just one week. For starters Drake Ayala debuts in the rankings at 12th at 125. Ayala just defeated #5 at the time Devin Shroder of Purdue 6-1 in the Purdue dual meet Sunday. Ayala will face #7 Michael DeAugustino of Northwestern on Friday.
(3) DeSanto, (2) Eierman, (12) Murin, (12) Young, (1) Marinelli (2) Kemerer, (18) Assad, and (5) Warner all stayed the same in the rankings. I am surprised that Abe Assad stayed ranked #18 at 184. I thought he would move up the rankings a few notches. I believe Assad will do much better than 18th at the NCAA National Tournament. Cassioppi went from #6 to #5 at Hwt.
In the team race Iowa remained at #2 20 points behind #1 Penn State. Iowa was behind Penn State by 21 points in the rankings last week. Michigan gained 22 points in the team race since last week at #3 and are now only 3 points behind Iowa.
Penn State replaced Iowa for #1 in the Dual Meet Rankings as the Hawks drop to #2. Iowa will host Penn State in Carver-Hawkeye Arena on Friday, January 28 at 8 PM CST.
Iowa will be on the road this weekend at #11 Northwestern (January 14) and at #18 Illinois (January 16).
InterMat Rankings – January 11, 2022
Tournament Team Rankings/Points
Penn State  112.5

Iowa  92.5

Michigan  89.5

Arizona State  66.5
Dual Meet
Penn State

Iowa

Michigan

Oklahoma State
125  Drake Ayala – 12th
133  Austin DeSanto – 3rd
141 Jaydin Eierman – 2nd
149 Max Murin – 12th
157 Kaleb Young – 12th 
165 Alex Marinelli – 1st
174 Michael Kemerer – 2nd
184 Abe Assad – 18th
197 Jacob Warner – 5th
Hwt Tony Cassioppii – 5th
For the complete InterMat rankings:
https://intermatwrestle.com/rankings/college?
It is great to be an Iowa Wrestling fan.
Go Hawks!