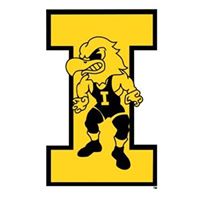 The Iowa Hawkeyes will be on the road this weekend with a dual meet at #11 Northwestern on Friday and at #18 Illinois on Sunday. Every single match is important for seedings at the Big Ten Tournament. First up is Iowa-Northwestern at 7 PM Friday that will be streamed live on BIGt.
Iowa has two wrestlers listed at five weights for both dual meets. I do not believe I have ever seen that before in a Big Ten dual meet for Iowa. #3 Austin DeSanto and Charles Matthews are both listed at 133. DeSanto did not wrestle Sunday against Purdue. #2 Jaydin Eierman and Drew Bennett are both listed at 141. #12 Max Murin and Cobe Siebrecht are listed at 149. #2 Michael Kemerer and Brennan Swafford are at 174 and #5 Tony Cassioppi and Aaron Costello at Hwt.
Northwestern has a ranked wrestler listed at eight of the ten weights. There are potential matchups of #12 Drake Ayala – #7 Michael DeAugustino at 125, #3 Austin DeSanto – #9 Chris Cannon at 133, #12 Max Murin – #5 Yahya Thomas at 149, and #12 Kaleb Young – #2 Ryan Deakin at 157. 
Depending on who Iowa puts out on the mat Northwestern may be favored in as many or even more matches than Iowa. Northwestern has the higher ranked wrestler at 125, 149, and 157 regardless of who Iowa puts out there. Should Iowa not put their #1 guy on the mat in any of the other weights we could have a very competitive dual meet.
*InterMat Rankings
#2 IOWA HAWKEYES (8-0, 2-0 BIG TEN) 2021-22 Overall Wt. Rank Name Yr. Hometown/High School Record 
125 12 Drake Ayala Fr. Fort Dodge, Iowa/Fort Dodge 11-3 
133 3 Austin DeSanto Sr. Exeter, Pennsylvania/Exeter (Drexel) 11-0 -OR- Charles Matthews *Fr. San Mateo, California/Junipero Serra 4-5 
141 2 Jaydin Eierman Sr. Columbia, Missouri/Father Tolton (Missouri) 11-0 -OR- Drew Bennett Jr. Fort Dodge, Iowa/Fort Dodge (Northern Iowa) 2-4
149 12 Max Murin Sr. Ebensburg, Pennsylvania/Central Cambria 4-1 -OR- Cobe Siebrecht So. Lisbon, Iowa/Lisbon 5-2 
157 12 Kaleb Young Sr. Punxsutawney, Pennsylvania/Punxsutawney 7-5 
165 1 Alex Marinelli Sr. Miamisburg, Ohio/St. Paris Graham 12-0 
174  2 Michael Kemerer Sr. Murraysville, Pennsylvania/Franklin Regional 2-0 -OR- Brennan Swaff ord Sr. Mediapolis, Iowa/Mediapolis (Graceland) 12-6 
184 18 Abe Assad So. Carol Stream, Illinois/Glenbard North 7-2 197 
197 5 Jacob Warner Sr. Tolono, Illinois/Washington Community 8-1 
285 5 Tony Cassioppi Jr. Roscoe, Illinois/Hononegah 6-2 -OR- Aaron Costello Sr. Dubuque, Iowa/Western Dubuque 11-2
#2 in Tournament Rankings
#2 in Dual Meet Rankings
#11 NORTHWESTERN WILDCATS (2-2, 0-2 BIG TEN) 2021-22 Overall Wt. Rank Name Yr. Hometown/High School Record 
125 7 Michael DeAugustino Sr. Palm Coast, Florida/Flagler Palm Coast 2-0 
133 9 Chris Cannon So. Oceanport, New Jersey/Blair Academy 8-1 
141 32 Frank Tal Shahar So. Delray Beach, Florida/American Heritage 4-4 
149 5 Yahya Thomas Sr. Chicago, Illinois/Mount Carmel 7-2 
157 2 Ryan Deakin Sr. Broomfi eld, Colorado/Legacy 6-0 
165 Erich Byelick Jr. Orlando, Florida/Lake Highland Prep 0-2 -OR- 32 David Ferrante So. Huntley, Illinois/Huntley 6-4 
174 28 Troy Fisher So. Garden Plain, Kansas/Goddard 10-5 
184 Jon Halvorsen So. Park Ridge, Illinois/Maine South 1-3 -OR- Jack Jessen Jr. Villa Park, Illinois/Willowbrook 1-4 
197 28 Andrew Davison Sr. Chesterton, Indiana/Chesterton 7-4 
285 14 Lucas Davison Jr. Chesterton, Indiana/Chesterton 12-3
#11 in Tournament Rankings
#19 in Dual Meet Rankings
It is great to be an Iowa Wrestling fan.
Go Hawks!