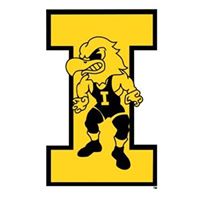 Two months from today, March 17, is not only St. Patty's Day but the opening day of the 2022 NCAA Wrestling Championships. The Little Caesars Arena in Detroit, Michigan will be packed for the opening round that begins at 11 AM CST. 
For starters Iowa Wrestling fans there is a lot of living to be done between now and then.  A lot. Let's take a step back and take a look at where Iowa Wrestling is right now and what they have coming up.
The internet has been an absolute buzz about Iowa Wrestling since the official news came out on New Year's Day that Spencer Lee was having season ending surgery. As a fan of course it was a blow but an expected one for me.  Lee did not look himself at the Rokfin Duals so I was expecting to hear the news of his season being over.
I have never seen that type of online attention given to an Iowa Wrestling team when they were not even on the mat. We of course now live in the internet era and Spencer Lee has dominated the news cycle since that announcement on January 1. 
Maybe because it was not a surprise to me about Lee or that I keep looking at all that Iowa Wrestling has on this 2022 team that has allowed me to move forward. The great performance by Drake Ayala, a true freshman from Ft. Dodge, Iowa at 125 has certainly softened the blow of losing Lee. Ayala is making Iowa Wrestling fans look forward to his next match. Wins over four straight nationally ranked wrestlers (#7,5,7,and 26) has me looking forward to how many points Ayala will score for us at the NCAA's this year.
With Ayala in the lineup Iowa still has a lot of potential to crown 10 All Americans at the NCAA National Tournament. That is anything but a stretch because every one of the other nine members in the starting lineup have been an All American in the past. Now when you have that type of firepower in a lineup I of course believe there is a lot to be excited about in the form of a team title.
The news story for Iowa Wrestling has gone from Lee being out for the year to speculation as to why Austin DeSanto and Jaydin Eierman have been out of the lineup recently.  I will admit that I have now idea and I do not have to.  It is mid January and injuries happen. Eierman is a gamer that likes the bright lights and spotlight and I am confident of his potential to score a lot of points at the National Tournament.  DeSanto is tough even by Iowa Wrestling standards and I will count on DeSanto being in the lineup at Big Tens on Saturday, March 5 at 11 AM CST until I hear otherwise from Tom Brands.
There was a lot of talk about Michael Kemerer being done for the year and he just had two first period pins over the weekend and is looking very tough. Real tough considering supposedly his wrestling career was over.
I am not in a big hurry to get through these next two months. I want to soak in every last moment that this 2022 edition of Iowa Wrestling has to offer.  What a great team. Iowa Wrestling is my entertainment.  We are coming up on two years since this world of ours has been turned upside down. I look to Iowa Wrestling to entertain me more than ever and they indeed do just that.
I already miss Alex Marinelli and Michael Kemerer and their careers are not even over yet.  As a fan I still have two months and two days to watch Marinelli and Kemerer take the mat as one of my favorite 1-2 duos in my career as an Iowa Wrestling fan.
I am also enjoying the dominant wins that Iowa wrestling has going. After a disappointing showing against Minnesota to get the new year started the Hawks have ripped off three straight impressive performances over nationally ranked Big Ten teams by the score of 36-4, 33-6, and 36-3. Not bad for a team with as many as three out of ten original starters out of the lineup. Only Iowa Wrestling is even close to having the depth to pull that off.
My focus as a fan right now is Iowa going on the road to take on #9 Ohio State at 7 PM Friday night.  The match at 184 is the one that I really want to see. I am looking forward to Iowa Wrestling entertaining us fans in that big dual meet.
Iowa has an experienced coaching staff and the most experienced team in the history of Iowa Wrestling.  This coaching staff and team know how to win the NCAA National Tournament. I am confident that they got this and we are in for one hell of a National Tournament in a great way. Until then, I am going to enjoy the next two months of Iowa Wrestling leading up to the National Tournament and go from there.
It is great to be an Iowa Wrestling fan.
Go Hawks!