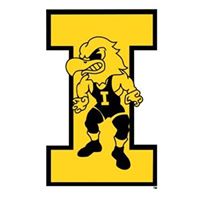 The name of Austin DeSanto rose to immediate national fame when he defeated Spencer Lee in the Pennsylvania 126 lbs. state finals in 2017. He transferred to Iowa and formed a great 1-2 duo of Lee-DeSanto to start a dual meet or tournament. DeSanto became a crowd favorite for exciting high paced matches that resulted in points being scored and always a lot of action. 
DeSanto of Exeter, Pennsylvania started his career at Drexel where he was an NCAA Qualifier as a true freshman at 133 in 2018. He did not redshirt at Drexel and immediately stepped into the starting lineup when he transferred to Iowa and placed fifth in 2019. He was seeded sixth in 2020 when the NCAA's were canceled. He placed third at the 2021 and 2022 NCAA National Tournament. 
This past season DeSanto was 21-4 with a team leading eleven tech falls to go along with two major decisions. I will always believe that the Top 3 at 133 that DeSanto was a part of the last two years is one of the toughest weights in recent memory. That Top 3 will hold to the test of time for being elite.
In my 39 years of going into the Iowa Wrestling room to watch practice I can honestly say that Austin DeSanto had as good of conditioning that I have ever seen from an Iowa wrestler. That is saying a lot. Incredible energy, endurance, intensity, and consistency.
Best of luck to you Austin DeSanto and thank you for how you represented Iowa Wrestling and provided great entertainment for Iowa Wrestling fans.
2018 – NCAA National Tournament Qualifier (Drexel)
2019 – 5th at NCAA National Tournament
2020 – 5th seed at NCAA National Tournament that was canceled, named All American
2021 – 3rd at NCAA National Tournament
2022 – 3rd at NCAA National Tournament
Career record: 123-27
It is great to be an Iowa Wrestling fan.
Go Hawks!