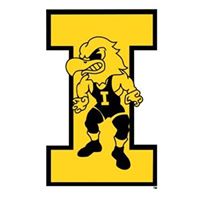 Jaydin Eierman was a great addition to the Iowa lineup the last two seasons. It is rare to have such an accomplished wrestler as Eierman transfer in to wrap up his career. 
Eierman of Columbia, Missouri (Father Tolton) transferred to Iowa after a successful career at Missouri where he placed fifth (2017), fourth (2018), and third (2019) in the country at 141. After transferring to Iowa, he took an Olympic Redshirt in 2020. Last season for the Hawks Eierman was a Big Ten champion and placed second in the country. Eierman's points were the difference in Iowa winning the 2021 national team title.
This season Eierman was hampered by injuries in the postseason. After qualifying for the National Tournament as a #2 seed it was easy to see that an injury led to him not placing at 141. A true gutty performance by Eierman at Big Tens and Nationals with a knee injury. It was a tough break to have his collegiate career end like that. I tip my hat to the fight that Eierman showed while competing so hard at the elite level of Big Tens and the NCAA National Tournament with that type of injury. 
Best of luck to Jaydin Eierman and thank you for how you represented Iowa Wrestling and provided great entertainment for Iowa Wrestling fans. You will always be known as a Hawk that helped us win a national team title.
2016 – Redshirt (Missouri)
2017 – 5th at NCAA National Tournament (Missouri)
2018 – 4th at NCAA National Tournament (Missouri)
2019 – 3rd at NCAA National Tournament (Missouri)
2020 – Olympic Redshirt (Iowa)
2021 – 2nd at NCAA National Tournament (Iowa)
2022 – NCAA National Tournament Qualifier (Iowa)
Career record: 120-18
It is great to be an Iowa Wrestling fan.
Go Hawks!