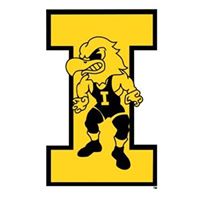 Michael Kemerer is a name that Iowa Wrestling fans will always remember. Definitely a fan favorite for his intense competition on the mat, the way he carried himself off the mat, and how he battled through adversity. 
Kemerer is from Murrysville, Pennsylvania (Franklin Regional HS) and was the star of the Recruiting Class of 2015. He was the first real big elite recruit to arrive on campus from Pennsylvania and led the way for the Young Guns Wrestling Club to Iowa City connection. Kemerer was the first of elite recruits that would lead to the 2021 NCAA National title for the Hawks.
After a redshirt season Kemerer placed third at 157 as a freshman and fourth as a sophomore. He then missed 2019 due to injury. Kemerer returned to the lineup in 2020 and was seeded #2 at 174 when the NCAA National Tournament was canceled. Last season Kemerer won a Big Ten title and placed second in the country. This season Kemerer placed fourth in the country.
To deal with a season ending injury, battle his way back and be in the lineup to challenge for a national title only to have the 2020 NCAA's canceled is a lot of adversity. Kemerer battled injuries this entire season as well. In spite of all of these setbacks Kemerer would go out and compete with so much heart and toughness that he stood out even by Iowa Wrestling standards.
The 11-6 win over Mark Hall in the Penn State meet in Carver-Hawkeye Arena in 2020 is one of the best matches in my life as an Iowa Wrestling fan. The crowd was deafening as Kemerer left the mat after the match.
Even as great as that match was the best Michael Kemerer moment for me was this past weekend. With obvious injuries that limited his ability to execute moves, Kemerer made a way to defeat three highly ranked opponents in a row. After a close loss in the Quarterfinals, Kemerer won his Blood Round of 12 match over #9 O'Malley of Drexel, 5-2. 
The next round Kemerer defeated #9 Labriola (Nebraska) 3-1 SV1 and then #3 Massa (Michigan) 6-4 SV1. Getting those hard fought wins with two of them in overtime while injured and limited showed the type of heart that Michael Kemerer has. Finishing fourth in that tough of a weight class while being hindered by injuries is something you just don't forget.
Academic All Big Ten, Big Ten Sportsmanship Award winner, five-time All American, Michael Kemerer has left his mark in the long tradition of Iowa Wrestling. If I could buy stocks in the future success of Michael Kemerer in the business world I would take all that I could get. 
Best of luck to you Michael Kemerer and thank you for representing Iowa Wrestling so well on and off the mat.
2016 – Redshirted
2017 – 3rd in NCAA (157)
2018 – 4th in NCAA (157)
2019 – Out due to injury
2020 – #2 seed at Nationals that were canceled, named All American (174)
2021 – NCAA Runner Up (174)
2022 – 4th in NCAA (174)
Career record: 101-12
6 time Academic All Big Ten
Dean's List
2 time NWCA Scholar Athlete
Big Ten Sportsmanship Award
It is great to be an Iowa Wrestling fan.
Go Hawks!