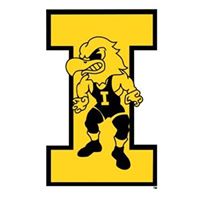 There will be plenty of action for Iowa Wrestling fans to follow this weekend. The South Point Hotel and Casino in Las Vegas will host the U.S. Open on Friday and Saturday, April 29-30. There will be elite competition for both men and women in Freestyle as well as Greco-Roman competition.
Iowa Wrestling fans will be able to follow the Hawks with past, current, and incoming recruits competing. You can follow all of the action on the premium service for FloWrestling.
Members of the Hawkeye Wrestling Club in the Senior U.S. Open are Patricio Lugo, Rachel Watters, Victoria Francis, and Jordan Nelson. Cullan Schriever, a sophomore on the Iowa Wrestling team will also be competing in the Senior Open. 
In the U20 division current Iowa wrestlers Jesse Ybarra, Caleb Rathjen, and Sebastian Robles will be competing.
Incoming Iowa Wrestling recruits Nate Jesuroga and Gabe Arnold will be competing in the U17 division. Jesuroga won a Bronze at the 2021 Cadet World Freeestyle Championships.The champion at each weight will represent Team USA in the 2022 Cadet World Freestyle Championships in Rome, Italy on July 27. This event will also be a qualifier for the Pan-American Championships on June 24-26, 2022 in Buenos Aires, Argentina.
Jesuroga and Arnold are in the outstanding Iowa Wrestling Recruiting Class of 2023 that I have already labeled as the best junior recruiting class in the history of Iowa Wrestling. By a large margin.
Competing in the U20 division are incoming recruits Aiden Riggins, Ben Kueter, Kolby Franklin, Joel Jesuroga, Jace Rhoades, and Easton Fleshman.
The U20 and U23 World Team Trials will be in Geneva, Ohio on June 3.
Senior Division
Cullan Schriever 
Pat Lugo 
Women's Senior Division
Rachel Watters 
Victoria Francis 
Jordan Nelson 
U20 
Jesse Ybarra 
Caleb Rathjen 
Sebastian Robles
Incoming recruits:
Aiden Riggins
Ben Kueter
Kolby Franklin
Joel Jesuroga
Jace Rhoades
Easton Fleshman
U17
Nate Jesuroga 
Gabe Arnold
It is great to be an Iowa Wrestling fan.
Go Hawks!