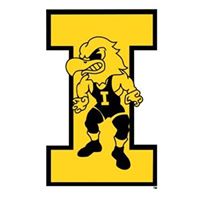 Iowa National champion Joel Sharratt has been named to the Glen Brand Wrestling Hall of Fame Class of 2022. Located inside of the National Wrestling Hall of Fame Dan Gable Museum, the Glen Brand HOF was established in 2002 to honor Iowans who wrestled or coached for an Iowa school and made an impact on wrestling on a national level. 
A banquet honoring the Class of 2022 will take place at the Prairie Links Golf and Events Center in Waverly, Iowa on Friday, June 24. The time has yet to be released. Also in the Class of '22 are former Iowa Hawkeyes Jay Borschel, Luke Moffitt, and the Trizzino Family. 
Sharratt won a state title for Kennedy High School in Bloomington, Minnesota and a Junior National Freestyle title before being a member of the Iowa Wrestling Recruiting Class of 1990. Gable told me several times over the years that Sharratt along with Chris Campbell were physically the most college ready recruits coming out of high school that he ever coached. 
Sharratt was a three-time NCAA Finalist and 1994 NCAA National Champion at 190 lbs. He won a Big Ten title in 1995 and was a member of three Big Ten team titles (1993-95). Sharratt was a member of the 1993 and 1995 NCAA national championship teams. 
After college Sharratt placed third at the 1996 Olympic Trials and won a Bronze medal at the 1997 Pan Am Championships. He was a two-time member of the U.S. National Freestyle team.
After retiring from competition Sharratt began his coaching career. After serving as a grad assistant at Minnesota and assistant coach at Navy, Sharratt was the head coach at Air Force (2007-2014) and Navy (2014-2020).
Congratulations to Joel Sharrat for being inducted in the Glen Brand Hall of Fame.
For more information on the Class of 2022 HOF Banquet contact the NWHOF Dan Gable Museum at (319) 233-0745 or dgmstaff@nwhof.org.
It is great to be an Iowa Wrestling fan.
Go Hawks!