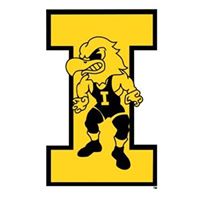 Legendary press member Wyatt Schultz and former Iowa Hawkeye great Chad Zaputil were inducted into the Iowa Wrestling Hall of Fame. A banquet honoring the IWHOF Class of 2022 was held at the Cresco Country Club in Cresco, Iowa on Monday evening. 
Wyatt started his lifelong connection to wrestling by competing for his hometown of Postville, Iowa. What started by taking pictures of wrestling events turned into a career passion for Wyatt as the owner of The Predicament. Wyatt sadly passed away last spring. Wyatt Schultz was a friend to everyone that knew him in the wrestling community and in life. You just do not replace a Wyatt Schultz and he will always be missed.
"Zap" was one of my all time favorite Iowa wrestlers. Coming out of Mystic, Iowa (Centerville HS), Zap shot to fame by defeating future teammate Terry Brands in the 1987 119 lbs. State Finals when he was a junior and Brands a senior. He was a member of the Iowa Wrestling Recruiting Class of 1988 with Troy and Terry Steiner and John Oostendorp. 
Zap went on to be a three-time NCAA Finalist and three-time Big Ten Champions for Iowa in 1991-1993. Iowa won a national team title all three years with Zap starting things off at 118 lbs. I have called the 1992 Iowa Hawkeyes the greatest wrestling team in the history of college wrestling many times over the years. Zap was lead off on that very team.
We all remember the "Zap Tap" for technique. My favorite memory is how many times Zap scored back points off of a takedown by having the strength to hold an opponent on their back before they bellied out to score a cheap two or three back points. Strong guy. 
Congratulations to Chad "Zap" Zaputil and God Bless our friend Wyatt Schultz for being inducted into the Iowa Wrestling Hall of Fame.
It is great to be an Iowa Wrestling fan.
Go Hawks!