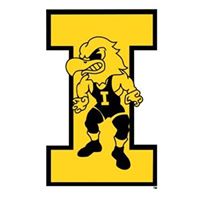 Seven University of Iowa wrestlers have been named as 2022 National Wrestling Coaches Association Division I Scholar All-Americans.
Drake Ayala, Austin DeSanto, Kaleb Young, Alex Marinelli, Michael Kemerer, Jacob Warner and Tony Cassioppi represent the Hawkeyes as NWCA Scholar All-Americans.
To be eligible, student-athletes must have a 3.2 grade point average and have won 60 percent of their matches or maintain a 3.0 GPA while earning All-America honors.
Kemerer and Marinelli earned the distinction for a fifth time in their careers, Young earned his fourth, while Warner and Cassioppi are now three-time honorees.
Iowa has received 54 NWCA academic honors since Tom Brands was named head coach in 2006.  The seven honorees are the second-most in a season in program history, trailing the eight honorees in 2020.
To have seven starters named for this honor is impressive.
Iowa Wrestling – getting it done on the mat and in the classroom.
Well done.
It is great to be an Iowa Wrestling fan.
Go Hawks!