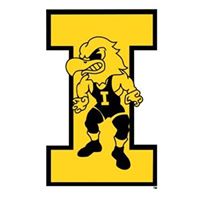 Incoming Iowa Wrestling recruit Ben Kueter won the best of three series 2-0 to win the 97kg/213 lbs. U20 World Team Trials in Geneva, Ohio. Kueter defeated Noah Pettigrew (The Storm Wrestling Center) 5-0 and 7-0 in another dominating performance.
Kueter, from Iowa City (City HS), Iowa, will now represent Team USA at 97kg at the 2022 U20 World Freestyle Championships in Sophie, Bulgaria on August 15-16.
In April Kueter won the UWW U20 Freestyle Nationals in Las Vegas to automatically qualify for the best of 3 series when he defeated Pettigrew 4-3 in the finals.
Kueter wil be a senior this fall at City High. Last September Kueter gave a verbal commitment to both the University of Iowa Wrestling and Football programs. Very rare in today's era of specialization. This is a special athlete that has unlimited potential in both football and wrestling at the highest level.
Nate Jesuroga (Pleasant Hill, Iowa/Southeast Polk HS) placed fourth at 57kg. Aiden Riggins (Waverly-Shell Rock HS, Iowa) at 74kg and Kaleb Franklin (Dubois, Pennsylvania/Wyoming Seminary) at 97kg did not place.
A special mention that Kueter, Jesuroga, and Riggins are all members of the Sebolt Wrestling Academy. This is the second consecutive year that SWA has a World Team member. Last summer Nate Jesuroga won a Bronze at the 2021 Cadet Freestyle World Championships.
Kueter and Jesuroga are in the Iowa Wrestling Recruiting Class of 2023 that I have already labeled as the best junior recruiting class in the history of Iowa Wrestling. Riggins and Franklin are in the Class of 2022 and will be enrolled as freshmen this fall at Iowa.
The future looks great for Iowa Wrestling.
It is great to be an Iowa Wrestling fan.
Go Hawks!