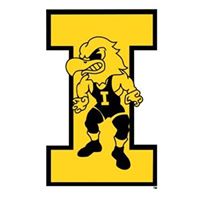 The present and future of Iowa Wrestling will be competing on Saturday and Sunday, June 4-5. Seven current and two incoming Iowa Hawkeyes will be in action at the U20 and U23 Freestyle World Team Trials in Geneva, Ohio. A spot on Team USA is on the line. Anytime you have a WTT you can expect great competition.
The U20 World Freestyle Championships will be in Sophie, Bulgaria on August 15-21. The U23 World Freestyle Championships are in Pontevedra, Spain on October 17-23.
Tony Cassioppi is the defending World champion at 125kg. Aiden Riggins and Kolby Frankin are in the incoming Iowa Wrestling Recruiting Class of 2022. 
Ben Kueter has already quaified for the U20 best of three finals at 97kg. Nate Jesuroga is also registered to compete. Jesuroga won a Bronze last summer at the Cadet World Freestyle Championships. Kueter and Jesuroga are in the outstanding Iowa Wrestling Recruiting Class of 2023.
Kueter, Jesuroga, and the entire Class of 2023 will officially be Iowa Hawkeyes on National Letter of Intent Signing Day on Wednesday, Novermber 9.
All of the competition will be covered by the premium service of FloWrestling. Wrestling begins at 8:30 AM CST Saturday for both the U20 and U23 division. 
U23 WTT
Drew Bennett – 65kg
Cobe Siebrecht-70kg
Patrick Kennedy – 74kg
Brennan Swafford – 79kg
Abe Assad – 86kg
Tony Cassioppi – 125kg
U20 WTT
Nate Jesuroga – 57kg
Caleb Rathjen – 70kg
Aiden Riggins – 74kg
Kolby Franklin – 92kg
Ben Kueter – 97kg
It is great to be an Iowa Wrestling fan.
Go Hawks!