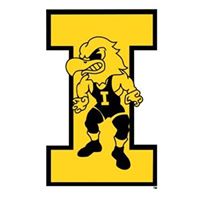 Iowa Wrestling received great news when elite recruit Cody Chittum of Tennessee committed to the Hawkeye program. Chittum is ranked as the #1 overall recruit in the country in the Class of 2023 by FloWrestling and is #1 at his weight across the wrestling media.  Chittum recently won a Junior National Freeestyle title in Fargo at 152 lbs. and competed for Blair Academy. Chittum is projected to compete at 149/157 for the Hawks.
Even though Chittum is ranked as the top recruit in the entire Class of 2023 his future has several options. Several outlets are reporting that Chittum will be moving to Iowa City soon. He already graduated high school and will have ther option to grey shirt, redshirt, or compete for a varsity spot for the Hawkeyes this season.
Iowa Wrestling fans will love Chittum. He is a physical, strong and aggressive wrestler that the Iowa Wrestling Nation really supports. Chittum coming out through the tunnel of The greatest wrestling training facility… in the world to a sold out Carver-Hawkeye Arena will raise the roof. Chittum will look great in the legendary Black and Gold of Iowa Wrestling.
Chittum had committed to Minnesota so this is huge news for the wrestling community.
Should Chittum wait and enroll with the Class of 2023 history will be made. The addition of Chittum will make the Class of 2023 the best recruiting class in the history of Iowa Wrestling.  That would be an amazing class.
Iowa Wrestling fans, this news should excite you.
And don't think for one minute that Iowa Wrestling is done recruiting either. I still anticipated a huge recruiting weekend during a big home Iowa football game this Fall.
The future looks great for Iowa Wrestling.
Iowa Wrestling Recruiting Class of 2023
Nate Jesuroga – 125
Ryder Block – 141/149
Cody Chittum – 149/157
Gabe Arnold – 174/184
Ben Kueter – Hwt
It is great to be an Iowa Wrestling fan.
Go Hawks!