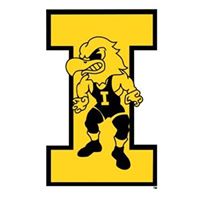 Incoming Iowa Wrestling recruits put on a display at the Junior Nationals Freestyle Championships in the FargoDome in Fargo, North Dakota the last three days.  Of the eleven future Hawks that entered the tournament, four of them won national titles, one was a national runner up and another placed fourth. That is real impressive.
It was not only that the incoming Iowa recruits won a national title, but how they dominated their competition at such a high level.
Nate Jesuroga returned to 120 and was as dominant as any wrestler competing in Fargo this week by rolling to the title. What a future Jesuroga has with the Hawks.
This was the huge breakout performance on the national level that I have been waiting for with Ryder Block rolling to the title at 138. I have been saying that Block is underrated. He certainly will not be after this performance.
Aiden Riggins capped off his high school career with a national title at 160. Riggins looks to be ready for the next level right now. At 220 it was an All-Iowa final with future teammates squaring off. Brad Hill defeated Kolby Franklin for the title. Joel Jesuroga battled back through the consolations to place fourth at 145.
The only remaining competition for our recruits this season will be Ben Kueter, from Iowa City (City HS). He will represent Team USA at 97kg at the 2022 U20 World Freestyle Championships in Sophie, Bulgaria on August 15-16. Kueter is in the Recruiting Class of 2023.
Nate Jesuroga – 120  National Champion
Jace Rhodes – 132  DNP
Ryder Block – 138  National Champion
Joel Jesuroga – 145  4th place
Carter Martinson – 152  DNP
Aiden Riggins – 160  National Champion
Carson Martinson – 160  DNP
Drake Rhodes – 170  DNP
Brad Hill – 220  National Champion
Kolby Franklin – 220  National Runner-Up
Easton Fleshman – Hwt  DNP
Nate Jesuroga and Ryder Block are in the Iowa Wrestling Recruiting Class of 2023. The remaining wrestlers are in the Class of 2022 and will enroll at Iowa this fall.
Drake Rhodes is from Montana. The remaining recruits were all competing for Team Iowa.
Iowa Assistant Coach Ryan Morningstar was a coach for Team Iowa.
The future looks great for Iowa Wrestling.
It is great to be an Iowa Wrestling fan.
Go Hawks!