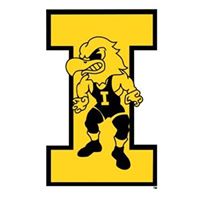 The Hawkeye Wrestling Club will have practice open to the public at 8:30 AM on Saturday, October 1 . Doors to the Dan Gable Wrestling Complex in Carver-Hawkeye Arena will open at 8:00. In the past Iowa wrestlers will be working out on their own during these HWC practices. Official practice for D-I college wrestling begins on Monday, October 10.The bleachers will be pulled out and I am expecting a packed house.
Iowa football will face #4 Michigan with a 11:05 AM kickoff. There will be a buzz of excitement in Iowa City on Saturday. I expect a full house in the wrestling room that will be filled with Iowa Wrestling fans anxious for the season to start. Attending a workout in the Iowa Wrestling room is a Hawkeye fan game day tradition for decades.
Iowa and Michigan battle on the mat and on the recruiting trail for wrestling. I am hoping for the room to be filled Saturday.
Be sure and check out how construction is coming along for the new facility that I named: "The greatest wrestling training facility…in the world!"
There will only be one more opportunity to see a workout like this and that will be Homecoming Saturday on October 29. As an Iowa Wrestling fan you want to be in the Iowa Wrestling room Saturday morning. It will be a great day to be an Iowa Hawkeye.
The Big Ten portion of the schedule has been released. I will keep you up to date when the full schedule is released.
Upcoming dates for Iowa Wrestling:
Monday, October 10 – First day of wrestling practice
October 29 – Home football game (Northwestern) *Homecoming
Big Ten schedule:
Friday, January 6 – Illinois
Sunday, January 8 – at Purdue
Friday, January 13 – Northwestern
Friday, January 20 – Nebraska
Sunday, January 22 – at Wisconsin
Friday, January 27 – at Penn State
Friday, February 3 – at Minnesota
Friday, February 10 – Michigan
Sat/Sun March 4-5 at Big Tens (Michigan)
Thurs-Sat March 16-18 – at NCAA National Tournament (Tulsa, OK)
It is great to be an Iowa Wrestling fan.
Go Hawks!