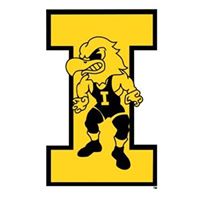 It was great to be back in the Iowa Wrestling room for the Hawkeye Wrestling Club practice on Saturday. This time of year is always filled with anticipation for the upcoming season. There were a lot of new faces in the room beginning their journey as an Iowa wrestler.
To start with I have to comment on the new facility. When you see the beginning stages of construction it gives you an idea of how big the new facility will be. I coined the phrase: "The greatest wrestling training facility…in the world!" I am confident it will be just that when it is hopefully opened a year from now. That will add another dimension to Iowa Wrestling and I believe to the entire sport.  
This was a HWC workout with Iowa wrestlers working out on their own. The official first day of practice for D-I wrestling is Monday, October 10. I was able to talk to some great wrestling people and take in as much of the wrestling that I could. I certainly did not see everyone so just because I do not comment does not mean they were not there.
It is always different seeing the transition for a wrestler going from being a Hawk to a member of the HWC. It didn't seem right with Alex Marinelli being on the airdyne. Kaleb Young was wrestling with a current Hawk and Pat Lugo was working out as well.
What stood out to me was how big Brad Hill and Kolby Franklin are. That is two big dudes that are just true freshmen. Hill looks too big for 197 already. I see him at Hwt. It works out perfect for Hill, Franklin, and Easton Fleshman, all true freshmen, to train with seniors Jacob Warner and Tony Cassioppi in their redshirt year. 
Speaking of which I did see Warner and Cassioppi working out. Cassioppi looks like he is possibly even lighter than last year. It is hard to believe that Warner is a senior already. I am sure we are all looking for a huge year out of Warner and Cassioppi this season.
I spoke briefly with Larry Lee, Spencer's dad. He said that Spencer is doing great with his recovery and looking forward to the season. A video from this summer showed Spencer Lee doing weighted pull ups. He looks much bigger and will be a large 125 lbs. wrestler. A healthy and beefed up Spencer Lee is a scary thought for all except Iowa Wrestling fans who cannot wait.
I saw Cullan Schriever and Brody Teske in the room. I see that as a battle for who gets the top spot at 133. An early season match between these two at an open tournament would be the best you could hope for to decide the starting lineup at 133 to begin the season.
The word on the street is that Real Woods is the real deal. Even better than what some were expecting. That is high praise coming from the Iowa Wrestling room. Woods was in some great flurries with Austin DeSanto. If Woods can hang with DeSanto in early September for conditioning to go along with his skills, count me in as impressed and excited about the upcoming season. With that in mind I see Woods being tough to beat for anyone at 141 this season. 
Max Murin was battling as always. You can always count on a top effort for Murin who is entering his senior season.
The biggest question mark for the lineup is at 157. Bretli Reyna, Caleb Rathjen, and Cobe Siebrecht will be in the hunt. You have to add in true freshman Aiden Riggins into the mix as well. All four are looking tough. This will be a battle that may go right up until Big Tens to see who gets the top sport. Early season open tournaments will be a great help in seeing what the pecking order is at this weight.
Patrick Kennedy looks like a lean wolf coming out of a long Yellowstone winter and it is early September. Kennedy certainly looks the part in the room. I am one of many fans that cannot wait to see him in action this season. 
I was able to meet incoming recruit Gabe Arnold and his dad Phil. Gabe is bigger than I was expecting. That is one strong wrestler with a great future. Gabe moved to Iowa and will be a senior at City High in Iowa City this season. With Arnold and Ben Kueter on the same high school team I am sure Hawk fans will be watching.
I had a good visit with Cory Connell who is a teacher and head wrestling coach at City High (Iowa City). He had great things to say about Gabe Arnold and Ben Kueter and is excited about the upcoming season. I have known Cory since he was knee high growing up in the Iowa Wrestling room. I followed every step of his career as a wrestler and now as a coach.
I was able to briefly talk to Dan Gable, who I call The Living Legend. Gable looks tough and ornery just watching a wrestling practice.
I was fortunate enough to see one of my mentors in wrestling for the first time in many years, Keith Mourlam. After being an NCAA Runner-Up for the Hawks he was an assistant coach and then head coach of the HWC. 
I am always grateful for the hours that man spent teaching me about wrestling. I was just a student in the Iowa Wrestling room to watch practice. He would make a point to make sure that I was keeping up with what was going on. I never knew why he spent so much time teaching me but I am forever grateful that he did. Doubtful that I would have an Iowa Wrestling blog today without the influence of Keith Mourlam.
After years in Virginia that included being head coach at Virginia Tech, Keith has now moved back home to Webster City, Iowa. I hope to see Keith in the room at every football Saturday practice and at the home dual meets.
The HWC will have practice at 9 AM this coming Saturday before the Iowa-Iowa State football game.
It is great to be an Iowa Wrestling fan.
Go Hawks!