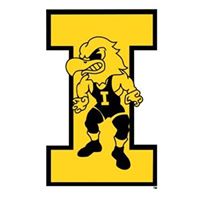 Four members of the Hawkeye Wrestling Club will be competing at the Henri Deglane Challenge in Nice, France on Saturday, January 21. Austin DeSanto (61 kg), Pat Lugo (65 kg), Cody Chittum (70 kg), and Alex Marinelli (79 kg) will be in a group of 32 wrestlers for Team USA competing in Men's Freestyle, Women's Freestyle, and Greco-Roman.
Lugo graduated from Iowa in 2020 and DeSanto and Marinelli graduated last year. Chittum is an elite recruit that was the #1 overall recruit in the country for the Class of 2022. He is taking a grey shirt season this year and will enroll at Iowa with the Recruiting Class of 2023 in August.
The Men's Freestyle competition will begin at 3:30 AM CST and run through until completion on Saturday.
Members of the HWC have been competing at this event for years. Last season Pat Lugo was slated to compete but the tournament was canceled.  
Former Hawkeye greats are well represented on the coaching staff. Coaches on the Men's Freestyle staff for this tournament include HWC Head Coach Daniel Dennis and Troy Steiner of the Gopher WC RTC. Mark Perry will be a coach for the Women's Freestyle team.
The USA Wrestling article about this tournament did not mention anything about a live stream being available. United World Wrestling (UUW) is showing on their website that a live stream will be available for the tournament. 
https://uww.org/event/grand-prix-de-france-henri-deglane-2
I will post a follow up blog with results.
It is great to be an Iowa Wrestling fan.
Go Hawks!