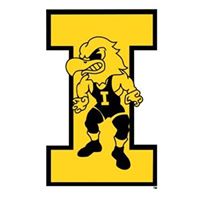 Spencer Lee has been named as the NCAA Wrestler of the Week and the Big Ten Wrestler of the Week. This is the second Big Ten Wrestler of the Week honor for Lee this season and sixth for his career.
#1 ranked Lee had yet another dominating performance last weekend. Lee pinned #3 Liam Cronin of Nebraska in just :38 and #4 Eric Barnett of Wisconsin in 4:48. Cronin was named Big Ten Wrestler of the Week last week. 
Lee, a three-time NCAA National champion, has pinned his last six opponents. The last four opponents have all been ranked in the top ten. He is 10-0 with ten bonus point victories and has a 48 match winning streak.
#2 Iowa will wrestle at #1 Penn State this Friday night, January 27 at 7:30 PM CST.
It is great to be an Iowa Wrestling fan.
Go Hawks!