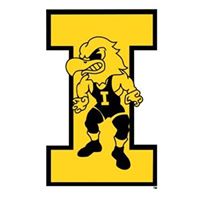 A sold out Carver-Hawkeye Arena will be packed and ready to go for an always entertaining Iowa-Nebraska dual meet Friday at 8 PM CST. Nebraska is ranked #5 for tournament and #10 for dual meet by InterMat and Iowa is #2 in both. Big Ten rivalry dual meet, live TV and radio, programs that always battle each other hard. Let's get 'em in the middle.
#1 Spencer Lee will face #3 Liam Cronin who is on a roll. Cronin was named the Big Ten Wrestler of the Week on Tuesday for his performance last weekend when he defeated at the time #4 Patrick McKee of Minnesota (11-6 decision) and #3 Michael DeAugustino of Northwestern (11-2 major decision).
Both Brody Teske and Cullan Schriever are listed to face either of two unranked wrestlers for Nebraska at 133. #2 Real Woods will have a big match against #5 Brock Hardy.
At 149 #7 Max Murin and Caleb Rathjen are listed at 149 to face either of two unranked wrestlers. Big match at 157 for #21 Cobe Siebrecht with undefeated and #1 ranked Peyton Robb.
#10 Patrick Kennedy will have #30 Bubba Wilson at 165. At 174 #16 Nelson Brands will face #2 Mikey Labriola. At 184 #8 Abe Assad will have #16 Lenny Pinto.
#8 Jacob Warner at 197 will return to action against #22 Silas Allred. And at Hwt #3 Tony Cassioppi will face Cale Davidson.
It is no secret that there is no love lost between these two programs, especially the coaching staffs. A Mark Manning coached Nebraska team is going to fight tooth and nail for every point in every single match especially against the Iowa Hawkeyes. I always look forward to this dual meet every year because I know I will be entertained by tough, intense wrestling in every single match. If you want to show someone what intense tough wrestling is like then have them watch Iowa-Nebraska.
#2 Iowa vs. #5 Nebraska
Sold out Carver-Hawkeye Arena
8 PM CST
Live on BTN
Mark Ironside and Steven Grace on 800 AM KXIC, iheartradio.com and hawkeyesports.com
125 1/1/1 Spencer Lee RS Sr. Murrysville, Pa./Franklin Regional 8-0 
7/3/5 Liam Cronin Gr. Orange, Calif./Servite (Indiana) 13-2
133 Brody Teske Jr. Fort Dodge, Iowa/Fort Dodge (Penn State/UNI) 2-0 -or- –/18/–/– Cullan Schriever So. Mason City, Iowa/Mason City 7-6 
Kyle Burwick RS Jr. Hettinger, N.D./Hettinger (Wisconsin) 10-2 -or- Boo Dryden RS Sr. Wichita, Kan./Campus High (Minnesota) 6-4
141 2/2/2 Real Woods Sr. Albuquerque, N.M/Montini Catholic (Ill.) (Stanford) 7-0 
4/5/6 Brock Hardy RS So. Brigham City, Utah/Box Elder 19-2
149 11/7/8 Max Murin RS Sr. Ebensburg, Pa./Central Cambria 12-2 -or- Caleb Rathjen RS Fr. Ankeny, Iowa/Ankeny 4-3 
Dayne Morton Sr. Gaylord, Minn./Sibley East (Northern State) 4-8 -or- Blake Cushing RS Fr. Grand Island, Neb./Grand Island 10-3
157 17/21/12 Cobe Siebrecht Jr. Lisbon, Iowa/Lisbon 7-1 
1/1/1 Peyton Robb Jr. Owatonna, Minn./Owatonna 17-0
165 9/10/9 Patrick Kennedy So. Kasson-Mantorville, Minn./Kasson-Mantorville 11-1 
–/30/– Bubba Wilson So. Manhattan, Kan./Manhattan 9-8 -or- Adam Thebeau RS Fr. Belleville, Ill./Belleville East 1-2
174 16/16/15 Nelson Brands Sr. Iowa City, Iowa/West 4-2 
3/2/2 Mikey Labriola Sr. Easton, Pa./Bethlehem Catholic 17-0
184 9/8/8 Abe Assad Jr. Carol Stream, Ill./Glenbard North 13-1 
13/16/16 Lenny Pinto RS Fr. Stroudsburg, Pa./Stroudsburg 10-6 -or Brandyn Van Tassell So. Mapleton, Utah/Maple Mountain 1-1 
197 8/8/11 Jacob Warner Sr. Tolono, Ill./Washington 10-2 
18/22/19 Silas Allred RS So. Anderson, Ind./Shenadoah 16-4
285 3/3/3 Tony Cassioppi Sr. Roscoe, Ill./Hononegah 14-0
–/–/– Cale Davidson Sr. Wichita, Kan./Goddard (Wyoming) 8-11 
(WIN/InterMat/AWN rankings)
It is great to be an Iowa Wrestling fan.
Go Hawks!