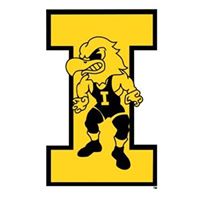 We have a break in the action for Iowa Wrestling so I wanted to do an update.
To start off the Hawks are looking good. Actually I believe they are looking real good. I was impressed with the Michigan and Oklahoma State dual meets.
The Iowa Hawkeyes looked real tough in a 33-8 win over Michigan and even tougher in a 28-7 win over Oklahoma State.
A few stats to start with. The Hawks won eight of ten matches against both Michigan and Oklahoma State. That is an impressive 16-4 in matches against two real good teams. 
Against Michigan Iowa had eight wins including one pin, two tech falls, and two major decisions. The two major decision were from the two highest nationally ranked Hawks – #1 Lee and #2 Woods. Iowa won the takedown battle with Michigan, 21-6. I saw in a Gazette article that Iowa outscored Michigan 51-17 in the first period. That is some impressive stats.
In the eight wins over Oklahoma State, Iowa won two matches that where an upset according to the rankings at 174 and 184. Those two matches really stood out for me. 
125 – Spencer Lee is…Spencer Lee. Nothing else to say except National champion.
133 – Brody Teske continues to impress me with every match. He put up 19 points in 4:09 for a 19-3 tech fall against Michigan. I have never seen a 11-3 major decision look that close as with Teske vs. Daton Fix of OSU. Teske had the match close with a tired opponent in the third period and rushed things too much and it cost him four back points.
Makes me wonder how that match may have been different had it been the second match instead of the seventh after a 20 minute break. I like where Brody Treske is at and where he is going. 
141 – Real Woods – National champ. As with at 125 – nothing else to say.
149 – I miss Max Murin already and his career has a lot to go in the last part of the season. I really like watching this guy. Just keep grinding Max Murin.
157 – Cobe Siebrecht had two overtime matches in two dual meets with different outcomes. First a thrilling win in OT over #8 Will Lewan of Michigan off of a great scramble for the takedown and a 3-1 victory. Against OSU Siebrecht come up short in OT against #9 Kaden Gfeller, 3-2 TB1.
Currently ranked #14 Siebrecht has endured a tough stretch over the last seven matches to close out the season against the at the time #9,1,18,6,17,8, and 9th ranked wrestler in the country. Siebrecht was 4-3 in those matches that were all close. 
Siebrecht has come a long way this season and I sure would not bet against him at Nationals. I am real confident that he will wrestle above his current ranking of #14.
165 – This is the Patrick Kennedy that fans like me were expecting to see this year. He looks more confident with every match. I said in the preseason that 165 was so tough with competition that I labeled it "Epic." I do not care who is out there. I like Kennedy a lot and I cannot wait to see where he ends up at Nationals.
174 – It was great to see Nelson Brands back in action with two wins. He looked good in a 5-1 win over Michigan. Brands looked very good with a 3-2 decision over #7 Dustin Plott of Oklahoma State. Nelson Brands is difficult to score on, strong, in shape, and peaking at the right time. I look for his career best at Nationals.
184 – For me as a fan the highlight of the Oklahoma State dual meet was the return and performance of Abe Assad at 184. A 4-2 decision over #10 Travis Wittlake of Oklahoma State was h-u-g-e. That match really excited me. 
I have been saying in this blog for quite some time that Abe Assad has the goods to be elite. Tournament time is here and Assad looks like he is ready to go. 
197 – I loved the fire out of Jacob Warner in the 16-1 tech fall in 2:26 over the varsity Michigan guy. You do not see scoring at 197 like that…ever. A 3-2 decision over #19 Luke Surber of Oklahoma State, who defeated the at the time #1 undefeated wrestler in the country at 197 a month ago, was a solid win.
Let the haters hate. I still believe Warner will win it all this year. 
Hwt – Even though I am disappointed in the 9-7 loss against #1 Mason Parris of Michigan I feel more confident moving forward about Tony Cassioppi after that match. I can see a lot of good coming out of the two losses on the season that will benefit Cassioppi at Nationals. Everything is fixable here at Hwt.
Big Cass is close to the top. Real close.
Something caught my eye on TV during the Penn State dual and in person at the Oklahoma State meet. It has been obvious to me that Iowa is taking a different approach to this season all along. What I saw off the mat in both duals is also different and I like it. A lot. Maybe is was nothing. Maybe is it was everything. Time will tell.
According to all of the rankings Iowa is not even a threat to win the National Tournament. No chance. At all. They might as well not even have Nationals and just hand Penn State the title and team trophy.
Any time you have a leader like Spencer Lee, additional senior leadership on a close team, a very talented team up and down the lineup getting healthy at tournament time and IOWA on their singlet with the backing of the Iowa Wrestling Nation – you have my fullest attention.
It's gonna be fun as a fan watching this play out over the upcoming weeks.
Let's get 'em in the middle.
Big Ten Wrestling Championships
Ann Arbor, Michigan
March 4-5
NCAA Wrestling Championships
Tulsa, Oklahoma
March 16-18
It is great to be an Iowa Wrestling fan.
Go Hawks!