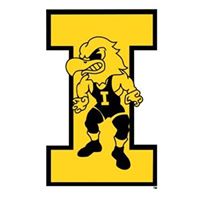 We are officially at the beginning of a new season of Iowa Wrestling. The internet is full of talk of transfers into the Iowa program. I am going to proceed with what I know at this time.  
Iowa has three graduating seniors to replace in the lineup for next season. Spencer Lee (125), Max Murin (149), and Jacob Warner (197). First of all thank you to Lee, Murin, and Warner. They certainly left their mark on the long standing tradition of Iowa Wrestling. 
Now on to a new year of Iowa Wrestling.
125
I see the tradition of Iowa having an outstanding wrestler to start things off at 125 to continue. Even though he has huge shoes to fill Drake Ayala is more than ready at 125. 
Ayala is one of the quickest wrestlers that I have ever seen come out of Iowa high school wrestling. He is originally from Ft. Dodge, Iowa and was Sebolt trained growing up. Competing at Nationals last year provided a great opportunity for Ayala to get a feel for the next level.
Ayala has put on the needed size for 125. Even with the returning competition I expect Ayala to contend for the national title next season.
133
Brody Teske will return at 133 as an NCAA National Qualifier. After starting the season opener on November 13 Teske was out with an injury until returning to the lineup on January 8. Cullan Schriever was in the lineup when Teske was out and he will return next year as well.
133 was a tough weight at Nationals this year and will be again in 2024. It will be interesting to see how Teske develops in the off season. I definitely like his toughness and conditioning. Improvement will be needed to make the award stand next season as an All American. The potential is there for Teske to make the jump to All American status. 
141
Real Woods will return for his senior season. Woods had a very good season with a Big Ten title and NCAA Runner-up finish. It would be great to see Woods put on more size for 141. I look for Woods to improve and make another run at the title.
149
Max Murin has held this spot for the last four years. The Hawks have two really good options to fill this spot.
Cody Chittum was the overall #1 recruit in the country for the class of 2022. Chittum is taking a grey shirt season while training and competing for the Hawkeye Wrestling Club. He recently won a silver at the Ibrahim Moustafa Ranking Event in Alexandria, Egypt with elite International competition.
Even as high as I am on Chittum do not forget about Caleb Rathjen. Rathjen may be the best athlete on the team and he is definitely tough. Rathjen went up a weight and took at the time #3 Kendall Coleman to the limit in dropping a 3-2 match. I believe the starter for Iowa at this weight between Chittum and Rathjen will contend for the national title. They are that good.
157
Heading into this past season 157 was the biggest unknown. Cobe Siebrecht stepped up and had a real solid year while competing in a meat grinder of a schedule. With his big throws and thrilling last second flurries for the win Siebrecht became a fan favorite.
Siebrecht picked up valuable experience at Nationals where he qualified at 157. Should Siebrecht improve even ⅓ as much for the upcoming season as he did last year, look out. Ton of potential here for Siebrecht.
165
Patrick Kennedy was an NCAA Qualifier in his first year on varsity. 165 had to be considered the toughest weight in the country and by a good margin. Unfortunately nearly all of the All Amercans from this year will be back next season. Kennedy will have to improve to find a spot on the podium next year at Nationals.
174
I was happy for Nelson Brands placing fifth at Nationals. He showed a lot of grit coming back from an injury. This was the best version of Nelson Brands to date and by quite a bit. Brands will be back next season.
Incoming recruit Gabe Arnold will be a true freshman next season. I believe we will see Arnold in several big dual meets next year. The new rule where a wrestler can compete up to five matches and not burn a year of eligibility will provide Arnold an opportunity to show what he has. We are seeing a trend nationwide of true freshmen being successful right away.
I believe that Arnold is as good as he has to be to win a match and he will be more successful in college and Senior International than he was in high school. The sky's the limit for this guy.
184
Abe Assad returns after qualifying for the NCAA Tournament. Assad has the tools to take it to the next level. It would be great to see Assad get healthy, put in a full season, and have a good tournament at Nationals.
197
Iowa has to replace Jacob Warner who has held this spot for the last five years. Kolby Franklin will be a redshirt freshman next season and will be the favorite. Franklin edged teammate Zach Glazier 4-3 at Soldier Salute in late December. Franklin and Glazier will have a battle for the top spot in the lineup next year.
Hwt
Tony Cassioppi will return for his senior season. Big Cass placed fourth at Nationals and finished with a 25-5 record with 11 pins.
Look for Cassioppi to improve over the off season and have a great season next year.
As I previously mentioned there is a lot of talk on the internet that Iowa may have transfers that will have an impact on the starting lineup next season.
I will keep you up to date on any transfers right here on my blog.
It is great to be an Iowa Wrestling fan.
Go Hawks!