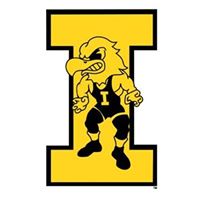 With a new year upon us, a look at the 2020 schedule is in order.  When you factor in how the Hawks are looking so far this season along with the added excitement of this being an Olympic year, 2020 will be a great year for Iowa Wrestling fans. 
The Hawks are in competition next when they travel to Indiana and Purdue for Big Ten dual meets on January 10 and 12.  Iowa begins three consecutive huge weekends of home dual meets with Nebraska on the 18th, Ohio State on the 24th, and Penn State on the 31st. Iowa then makes a road trip to Michigan State (Feb 2) and Michigan (Feb 8).  
As a fan, you really cannot ask for more. Penn State is already a sellout of over 15,000 tickets sold and I am expecting over 12,000 fans for Nebraska, Ohio State, Minnesota, and Oklahoma State.  If you do not have your tickets for the remaining home dual meets, you might want to get them while you can.
Rutgers announced that the 2020 Big Ten Championships they are hosting is already a sellout.  That will be a loud and electric crowd of wrestling fans. New Jersey loves wrestling and I am sure that will be a great environment. 
The 2020 NCAA Championships is already near the guarantee of breaking the attendance record.  I have seen predictions of 40-50,000 fans for the Finals on March 21. Minnesota is a wrestling crazy state and just a short drive for a lot of Iowans.  I am expecting a sea of Iowa Hawkeye Black and Gold at the U.S. Bank Stadium.
The weekend after Nationals there will be HWC wrestlers competing at the Last Chance Qualifier in Millersville, PA.  The following weekend is the 2020 U.S. Olympic Team Trials in an expected sold out arena in College Park, PA on April 4-5.
I expect to see Iowa wrestlers and incoming recruits competing in Geneva, OH at the UWW Junior and U23 World Team Trials on May 29-31.  These tournaments always produce some very entertaining wrestling. Any time the words World Team Trials are in the title of a tournament, you will be entertained as a fan.
So wrestling fans, we are pretty much booked for great wrestling from the second weekend of January through early April.  And I mean great wrestling to be following. The ultimate for our sport of wrestling will be the 2020 Olympics in Tokyo, Japan on August 2-8.  That will give us a few quick weeks before we dive right into the 2020-2021 Iowa Wrestling season that looks like it will be very special. As I said earlier, you really could not ask for more.
I will be here to keep you up to date on my Iowa Wrestling Fan Blog.
2020 Iowa Wrestling schedule
Friday, Jan 10 – at Indiana
Sunday, Jan 12 – at Purdue
Saturday, January 18 – Nebraska
Friday, January 24 – Ohio State
Friday, January 31 – Penn State (Sold out)
Sunday, Feb 2 – at Michigan State
Saturday, Feb 8 – at Michigan
Saturday, Feb 15 – Minnesota
Sunday, Feb 23 – Oklahoma State
Sat/Sun Mar 7-8 – at Big Tens (Rutgers)
Th-Sat Mar 19-21 – at NCAA National Tournament (Minneapolis, MN)
HWC
Mar 26-28 – Last Chance U.S. Olympic Trials Qualifier (Millersville, PA)
April 4-5 – 2020 U.S. Olympic Trials (State College, PA)
May 29-31 – UWW Junior and U23 World Team Trials (Geneva, OH)
Aug 2-8 – 2020 Olympics (Tokyo, Japan)
Sept 7-13 – Junior World Championships (Belgrade, Serbia)
Nov 23-29 – U23 World Championships (Tampere, Finland)
It is great to be an Iowa Wrestling fan.
Go Hawks!