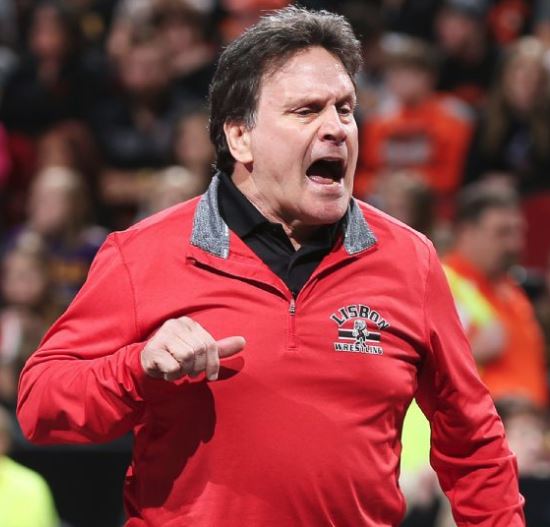 Lisbon Wrestling coach Brad Smith was awarded the Bob Siddens High School Coaching Excellence Award.  Smith received the honor at a ceremony on Friday at the Dan Gable Hall of Fame in Waterloo, Iowa. This past season Smith surpassed Coach Siddens for the all-time mark of state titles won by a high school coach in Iowa when Lisbon won Smith his 12th state title.
In the first thirteen years of Smith's coaching career at Lisbon, the Lions won a state title in 1980, 1982, 1983, 1986, 1988, 1989, and 1990.  In 21 seasons at Iowa City High he won state titles in 1992, 1999, and 2002. Smith returned home to coach Lisbon in 2012 and won a state title in 2017 and 2018.
Coach Smith is a member of the National Wrestling Hall of Fame, the Glen Brand Hall of Fame, Iowa High School Wrestling Hall of Fame, and has been named as the National Wrestling Coach of the Year twice in his career.  Smith has coached wrestlers to 50 state titles, five of his former wrestlers won a national title in college and he has coached a record four four-time state champions. As a wrestler, Smith was a two-time Illinois state champion, a member of two NCAA national championship teams at Iowa, and was the 142 lbs. NCAA National champion in 1976.  
Coach Siddens is an absolute legend that led Waterloo West to eleven state titles.  In his 27 years (1950-1977) at Waterloo West, Siddens had 51 state champions with his eleven state titles, seven runner-up and three third place teams.  He retired with a dual meet record of 327-26-3.  The 327 dual meet wins was a national record at the time. Siddens' most famous wrestler was Dan Gable.
The state of Iowa has an incredible high school wrestling legacy and Bob Siddens and Brad Smith are at the top of all of the greats to have ever coached in the Iowa high school wrestling ranks.
Congratulations Coach Smith for receiving this prestigious and much deserved honor.