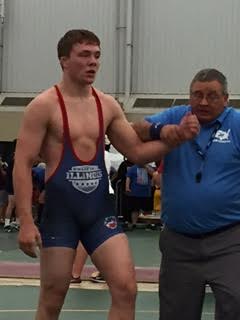 Iowa Wrestling recruits Jacob Warner (195) and Anthony Cassioppi (Hwt) won Junior National Freestyle titles.  At the largest wrestling tournament in the world in Fargo ND, Warner and Cassioppi looked very impressive.
Warner, a senior from Washington, IL, was absolutely dominant in winning all seven of his matches by tech fall or fall in winning the Junior National title at 195 lbs.  In the finals, Warner won by an 11-0 tech fall over Myles Lee of Pennsylvania in 3:32.  Warner won a Cadet national title in both freestyle and Greco-Roman in 2015 at 170 lbs.  This marks the end of a very impressive high school career for Warner that also includes a bronze medal at the 2016 Cadet World Freestyle Championships last fall in Tbilisi, Georgia.  Warner is the top rated wrestler the country at 195 lbs. this year. Iowa Wrestling fans are eagerly waiting for Warner to appear on campus to begin his career as an Iowa Hawkeye.
Cassioppi, just a junior from Roscoe, IL, had a great tournament in winning the title at Hwt.  In his five matches to the finals, Cassioppi won by tech fall or fall.  In the finals, he defeated Brandon Metz of North Dakota 4-1 to capture the title.  Cassioppi won a gold medal at the Junior Pan Am Championships in Freestyle and Greco-Roman representing Team USA earlier this summer in Peru.  Against very tough competition at Junior National Duals, Disney Duals, Junior Pan Am Championships, and Junior National Freestyle, Cassioppi is an amazing 38-0.  That is a great summer of competition.
Myles Wilson placed sixth at 182 lbs.  Iowa Wrestling recruits Zach Axmear (152), and Aaron Costello (Hwt) failed to place but made a solid showing at Junior Nationals. Warner, Axmear, Wilson, and Costello are members of the Iowa Wrestling Recruiting Class of 2017 that was ranked number one in the country.  Cassioppi is a member of the Iowa Wrestling Recruiting Class of 2018.
Great performance by the incoming Iowa Hawkeyes that should add to the momentum that Iowa Wrestling has going for them out on the recruiting trail.  
The future looks great for Iowa Wrestling.
It is great to be an Iowa Wrestling fan.
195 lbs.
Rd 64: Jacob Warner, Washington, IL (IL) VSU1 Jake Erckenbrack, MN 13-2 1:36
Rd 32: Jacob Warner, IL VFA Bear Hughes, OK 13-3, 4:44
Rd 16: Jacob Warner, IL VSU Ryan Yarnell, MO, 10-0 2:13
Quarters: Jacob Warner, IL VSU Colton Wolfe, NE, 10-0 0:47
Semifinals: Jacob Warner, IL VSU Jakob Woodley, PA, 10-0 4:09
Finals: Jacob Warner, IL VSU Myles Lee, PA, 11-0 3:32
Hwt
Rd 64: Anthony Cassioppi, Roscoe, IL VFA Hamza Manassra, AZ 4-0, 0:48
Rd 32: Anthony Cassioppi, IL VSU Mitchell Trigg, MN, 10-0 0:50
Rd 16: Anthony Cassioppi, IL VFA Aaron Costello, IA, 12-2 3:00
Quarters: Anthony Cassioppi, IL VFA Spencer Trenary, IA, 10-0 0:57
Semifinals: Anthony Cassioppi, IL VSU Samson Evans Alcoa, 10-0 1:54
Finals: Anthony Cassioppi, IL VPO1 Brandon Metz, ND, 4-1
152 lbs.
Rd 64: Zach Axmear North English, IA (Iowa) VSU Thomas Ingram, WY 10-0 1:07
Rd 32: Will Lewan IL VSU1 Zach Axmear IA 12-2, 1:43
Cons 32-2: Zachary Axmear, IA VSU1 Demitreus Henry NY, 17-6 4:36
Cons 16-1: Cons 16-1 Zach Axmear, IA VFA Will Lawrence, VA 8-0, 1:45
Cons 16-2: David Johnson, OH VSU Zachary Axmear, IA, 10-0 1:50
182 lbs.
Rd 64: Myles Wilson, New Castle, CO VSU1 Trever Begin, OH 12-2
Rd 32: Beau Yineman, WI VFA Myles Wilson, CO 14-8, 3:27
Cons 32-2: Myles Wilson, CO VSU Noah Glaser IA, 10-0 0:29
Cons 16-1: Myles Wilson, CO VFA Salaam Banish, VA, 10-2 2:13
Cons 16-2: Myles Wilson, CO VSU1 Jayden Woodruff, CO, 13-2 3:41
Cons 8-1: Myles Wilson, CO VSU Trey Rogers Hastings, MN, 10-0 0:45
Cons 8-2: Myles Wilson, CO VFA Mac Southard IA, 5-4 2:27
Cons 4: Myles Wilson, CO VSU1 Austin Harris Roseburg, OR, 16-5 2:31
Consi Semi: Lucas Davison, IN VFA Myles Wilson, CO, 23-12 5:30
5th place match: Christian Knop Alexandria, AL VSU1 Myles Wilson, CO, 20-9 5:55
Hwt
Rd 64: Aaron Costello, Dubuque, IA VPO1 Arath Rangel, Nevada, 11-10
Rd 32: Aaron Costello. IA VPO1 Lee Herrington, NE, 4-4
Rd 16: Anthony Cassioppi, IL VFA Aaron Costello, IA, 12-2 3:00
Cons 8-1: Aaron Costello, IA VSU Jordan Earnest Wadsworth, OH 10-0 1:02
Cons 8-2: Jon Spaulding, OH VPO1 Aaron Costello IA, 8-6