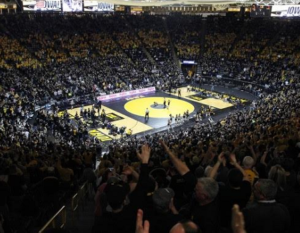 The Iowa Wrestling team will finish up the "13-Day Gauntlet" when they face off with Ohio State tonight at 7 PM CST. The Iowa Wrestling team will have faced the top three teams in the country in a thirteen day stretch.  The first two dual meets against Oklahoma State and Penn State did not go to the Hawks.  Depending on which rankings you go by, Iowa and Ohio State are both rated either number three or four in the nation.  There are great matchups at every weight and an entertaining dual meet is a certainty.  Ohio State will be without Olympic and World champion Kyle Snyder at Hwt. who is competing in Russia this weekend for Team USA.  As reported last week, Sam Stoll at Hwt will be out for the season for Iowa at Hwt.
The biggest match of the night will be at 133 where top rated Nathan Tomasello faces third ranked Cory Clark. You also have to definitely mention that at 149, third ranked Brandon Sorensen faces fifth ranked Micah Jordan.  The dual meet will hinge on every match.  However, I feel as though the swing match will be at 141.  At 141, thirteenth ranked Luke Pletcher of Ohio State will meet up with nineteenth ranked Topher Carton of Iowa.  The winner of that match will be in the driver's seat to win the dual.  Carton is a senior wrestling in front of a huge home crowd.  Let's hope he gives us something to cheer about.  Should the dual meet come down to Hwt, both teams will have a reserve out their representing their program.  There will be a lot of program pride on the line in that match.
Ohio State is coached by former All American Iowa wrestler Tom Ryan.  There is no love lost between the Iowa and Ohio State wrestling programs.  Iowa and Ohio State square off on the mat and on the recruiting trail.  I am looking for fireworks and a very inspired Iowa Wrestling team.  I am anticipating several official challenges that will get the crowd going. This will be a very entertaining dual meet.  
As of 10 AM this morning, there were 8,000 tickets sold.  We definitely want to get over 10,000, and 12,000 sounds even better.  The weather will not be an issue for Iowa in January.  We have been number one in the country for the last ten years for attendance for college wrestling.  Let's get a huge, loud crowd going tonight.     
All of us Iowa Wrestling fans need to do our part and not just show up, but show up and flex our muscles as by far the greatest fanbase in college wrestling.  In my opinion, Iowa Wrestling has the greatest fan base advantage of any sport in the United States.
You can order tickets for the Iowa-Ohio State wrestling meet at:
You can also call for tickets at 1-800-IA-HAWK (1-800-424-2957).
The main Ticket Office at the North entrance will remain open all day through the beginning of the wrestling meet at 7 PM tonight.  The additional ticket offices will open at 5:30 PM.
Iowa – Ohio State dual meet begins at 7 PM  
*All times are CST*
Televised live on BTN.  Radio coverage at 800 AM on KXIC and also through Hawkeye All-Access that can be found at www.hawkeyesports.com.