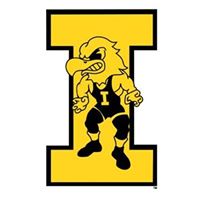 It was another impressive weekend for Iowa Wrestling as the program had success in the Princeton dual meet and at the Lindenwood Open.  Iowa started off the weekend Friday by defeating Princeton in the home opener, 31-10. Iowa won seven of the ten matches with three starters out of the lineup.
125 – About all I can do is keep repeating the same thing.  Spencer Lee is… Spencer Lee. Lee got the 18-2 tech fall early in the second period against a very good wrestler in Pat Glory. 
133 – The long awaited Carver-Hawkeye debut of Austin DeSanto was as good as advertised.  DeSanto looked great in getting the fall in 3:27 for the loudest roar of the crowd all night.  I have a feeling that DeSanto will be getting quite a few loud cheers in Carver-Hawkeye during his career.
141 – I have been talking about looking forward to the 1-2 punch of Lee and DeSanto.  In his Carver debut, Max Murin made a strong case to be added to that list. Murin was very impressive in scoring the fall in 4:23.  Having the competition in the room for the varsity spot at 141 will only make Murin that much better.
149 – In the biggest match of the night, Patricio Lugo dropped a hard fought 7-4 decision to #1 ranked Matt Kolodzik.  Lugo is right there with the best in the country. As I stated in a blog before the season started. Lugo has the toughness to really improve as the season progresses and I look for him to be a real force when Big Tens rolls around.  Huge upside for Lugo at 149 for the Hawks.
157 – Kaleb Young had a battle in defeating Quincy Monday, 7-4.  That was an entertaining match between two very good wrestlers. I just like Young more and more every time I see him.
165 – Alex Marinelli entertained the crowd with a pin in 3:58.  Marinelli always comes out attacking with a lot of horsepower. Marinelli is all of the 165 lbs. limit and looks great.
174 – Myles Wilson dropped a 15-3 major decision.  Wilson fought hard against a good wrestler.
184 – Cash Wilcke showed some of is quickness in getting an 8-3 decision.  Wilcke has found a home at 184 and I believe he has the ability to do a lot at NCAA's this year.
197 – Connor Corbin fought real hard in dropping a 10-3 decision to #7 Patrick Brucki.  Corbin has already performed ahead of what most predictions would have been for him coming out of high school.  Corbin is a great example of the depth of the Iowa program.
Hwt. – Aaron Costello again looked very solid in winning his match  6-0. Costello is very hard to score on, solid hand fighting, and has real good conditioning for a Hwt.
Overall, I thought this was a real good showing by the Hawks.  As I mentioned in my blog on Friday, that has to be a record to have six starters making their home debut in the same meet.  That is a lot of new faces in the lineup.
I do not know when we will see Michael Kemerer (174), Jacob Warner (197), and Sam Soill (Hwt).  I do know that it is a long time until we want to see those three and the entire lineup peak in Pittsburgh at the 2019 NCAA Wrestling Championships on March 21-23.  I want to see the Iowa Wrestling team at their best then, not now. However, I am sure looking forward to seeing Kemerer, Warner, and Stoll. Especially seeing that Warner kid.  If Jacob Warner is as good as I think he is…look out.
Iowa is on the home mat in Carver-Hawkeye Arena next on Saturday, November 24 at Noon against Purdue.  Tickets are available.
Hawks win four titles at Lindenwood Open
Iowa Wrestling had a very good showing on Saturday.  Anthony Cassioppi, Nelson Brands, Vince Turk and Zach Axmear won titles at the Lindenwood Open in St. Charles, MO.  
The Iowa Wrestling recruiting Class of 2018 had a great day with Cassioppi and Brands both winning titles in impressive fashion. Cassioppi dominated the field at Hwt. After a 9-1 major decision, Cassioppi pinned his next three opponents including Gannon Gremmel of Iowa State in the finals in 4:20. With his four pins last week in winning the Grand View Open, Cassioppi is now 8-0 on the season with seven pins and a major decision.  Of his seven pins, six were in the first period and one in the second period.
Nelson Brands won the title at a tough 165 lbs. weight class.  In the first two rounds, Brands scored a 22-4 tech fall and a 10-5 decision .  In the semifinals, Brands defeated former Iowa Hawkeye Joey Gunther 3-1 in the semifinals.  Gunther was an NCAA Qualifier for Iowa the last two years before transferring from Iowa to Illinois. Brands then defeated Dan Braunagel of Illinois in the finals, 3-1.
Turk defeated Ian Parker of Iowa State 6-5 to capture the title at 141.  Also at 141, Carter Happel placed fourth. Jeren Glosser placed second at 157, Keegan Shaw place third at 157, and Paul Glynn placed fifth at 133.  Perez Perez (125), Preston Stephenson (157), Jeremiah Moody (157), Tristan McDonald (165) and Cade Brownlee (197) did not place.
In the Fresh/Soph division, Zach Axmear had a very impressive tournament in winning the title at 149.  Axmear recorded two falls and two tech falls.
It is great to be an Iowa Wrestling fan.
Go Hawks!
#3 IOWA 31, Princeton 10
125 — #1 Spencer Lee (IA) tech. fall Patrick Glory (P), 18-2; 5-0
133 — #11 Austin DeSanto (IA) pinned Jonathan Gomez (P), 3:27, 11-0
141 — #14 Max Murin (IA) pinned Marshall Keller (P), 4:23; 17-0
149 — #1 Matthew Kolodzik (P) dec. #12 Pat Lugo (IA), 7-4; 16-3*
157 — #13 Kaleb Young (IA) dec. Quincy Monday (P), 7-4; 19-3
165 — #4 Alex Marinelli (IA) pinned Dale Tiongson (P), 3:58; 25-3
174 — Travis Stefanik (P) major dec. Myles Wilson (IA), 15-3; 25-7
184 — #12 Cash Wilcke (IA) dec. Kevin Parker (P), 8-3; 28-7
197 — #7 Patrick Brucki (P) dec. Connor Corbin, 10-3; 28-10
285 — Aaron Costello (IA) dec. Obinna Ajah (P), 6-0; 31-10
Lindenwood Open in St. Charles, MO
Black Division (Fresh/Soph) 149
Champ. Round 1 – Zach Axmear (Iowa) won by fall over Austin Landow (Lindenwood (Mo.)) (Fall 5:17)

Champ. Round 2 – Zach Axmear (Iowa) won by fall over Noah Nemer (Iowa State) (Fall 1:26)

Quarterfinal – Zach Axmear (Iowa) won by fall over Eddie Ordonez (Illinois) (Fall 5:34)

Semifinal – Zach Axmear (Iowa) won by tech fall over Keenan Graef (Benedictine College) (TF 19-1)

1st Place Match – Zach Axmear (Iowa) won by fall over Nathan Swartz (Northern Illinois) (Fall 2:56)
Gold Division (Open) 125
Champ. Round 1 – Michael DeAugustino (Northwestern) won by decision over Perez Perez (Iowa) (Dec 7-3)

Cons. Round 1 – Perez Perez (Iowa) received a bye () (Bye)

Cons. Round 2 – Kevin Radcliff (Iowa Central Community College) won by decision over Perez Perez (Iowa) (Dec 3-2)
Gold Division (Open) 133
Champ. Round 1 – Paul Glynn (Iowa) received a bye () (Bye)

Quarterfinal – Paul Glynn (Iowa) won by decision over Tanner Hitchcock (Lindenwood (Mo.)) (Dec 6-2)

Semifinal – Danny Swan (Lindenwood (Mo.)) won by decision over Paul Glynn (Iowa) (Dec 2-1)

Cons. Semi – Todd Small (Cyclone RTC) won by decision over Paul Glynn (Iowa) (Dec 7-3)

5th Place Match – Paul Glynn (Iowa) won by major decision over Charles McNeal (McKendree University) (Maj 10-1)
Gold Division (Open) 141
Champ. Round 1 – Carter Happel (Iowa) received a bye () (Bye)

Champ. Round 2 – Carter Happel (Iowa) won by major decision over Sam Ritchie (Missouri) (Maj 18-6)

Quarterfinal – Carter Happel (Iowa) won by major decision over Tyler Stegall (Maryville University) (Maj 18-7)

Semifinal – Ian Parker (Iowa State) won by decision over Carter Happel (Iowa) (Dec 10-3)

Cons. Round 4 – Carter Happel (Iowa) won by major decision over Alec McKenna (Northwestern) (Maj 14-3)

3rd Place Match – Quinn Kinner (Ohio State) won by decision over Carter Happel (Iowa) (Dec 9-7)
Gold Division (Open) 141
Champ. Round 1 – Vince Turk (Iowa) received a bye () (Bye)

Champ. Round 2 – Vince Turk (Iowa) won by decision over Parker Bohannan (Oklahoma City) (Dec 2-0)

Quarterfinal – Vince Turk (Iowa) won by decision over Ryan Leisure (Iowa State) (Dec 10-3)

Semifinal – Vince Turk (Iowa) won by major decision over Quinn Kinner (Ohio State) (Maj 10-2)

1st Place Match – Vince Turk (Iowa) won by decision over Ian Parker (Iowa State) (Dec 6-5)
Gold Division (Open) 157
Champ. Round 1 – Preston Stephenson (Iowa) received a bye () (Bye)

Champ. Round 2 – Eric Barone (Illinois) won by decision over Preston Stephenson (Iowa) (Dec 12-5)

Cons. Round 2 – Preston Stephenson (Iowa) won by decision over Kyle Lee (Williams Baptist) (Dec 8-4)

Cons. Round 3 – Justin Ruffin (Southern Illinois Edwardsville) won by major decision over Preston Stephenson (Iowa) (Maj 14-1)
Gold Division (Open) 157
Champ. Round 1 – Keegan Shaw (Iowa) received a bye () (Bye)

Champ. Round 2 – David Carr (Iowa State) won by decision over Keegan Shaw (Iowa) (Dec 11-4)

Cons. Round 2 – Keegan Shaw (Iowa) won by fall over Chris Gillesse (McKendree University) (Fall 2:00)

Cons. Round 3 – Keegan Shaw (Iowa) won by decision over Qiante Wagner (McKendree University) (Dec 8-2)

Cons. Round 4 – Keegan Shaw (Iowa) won by fall over Nick McGhee (Maryville University) (Fall 2:04)

Consolation 1st – Keegan Shaw (Iowa) won by decision over Lane Stigall (Missouri) (Dec 10-6)
Gold Division (Open) 157
Champ. Round 1 – Jeremiah Moody (Iowa) won by decision over Matt Pratt (Maryville University) (Dec 2-0)

Champ. Round 2 – Jeremiah Moody (Iowa) won by tech fall over Shaylan Loomis (Lindenwood – Belleville (Ill.)) (TF 20-5)

Quarterfinal – Erich Byelick (Northwestern) won by decision over Jeremiah Moody (Iowa) (Dec 5-4)

Cons. Round 3 – Tyler Mann (Ouachita Baptist University) won by decision over Jeremiah Moody (Iowa) (Dec 8-3)
Gold Division (Open) 157
Champ. Round 1 – Jeren Glosser (Iowa) received a bye () (Bye)

Champ. Round 2 – Jeren Glosser (Iowa) won by fall over Lane Stigall (Missouri) (Fall 4:54)

Quarterfinal – Jeren Glosser (Iowa) won by decision over Johnny Mologousis (Illinois) (Dec 9-5)

Semifinal – Jeren Glosser (Iowa) won by fall over Eric Barone (Illinois) (Fall 6:35)

1st Place Match – David Carr (Iowa State) won by decision over Jeren Glosser (Iowa) (Dec 7-3)
Gold Division (Open) 165
Champ. Round 1 – Dan Braunagel (Illinois) won by tech fall over Tristan McDonald (Iowa) (TF 21-2)

Cons. Round 1 – Tristan McDonald (Iowa) won by medical forfeit over Ron Evans (Lindenwood – Belleville (Ill.)) (MFF)

Cons. Round 2 – Tyler Harrington (Maryville University) won by decision over Tristan McDonald (Iowa) (Dec 8-2)
Gold Division (Open) 165
Champ. Round 1 – Nelson Brands (Iowa) won by tech fall over Tim McCarthy (Illinois) (TF 20-4)

Quarterfinal – Nelson Brands (Iowa) won by decision over Kyle Jolas (Lindenwood (Mo.)) (Dec 10-5)

Semifinal – Nelson Brands (Iowa) won by decision over Joseph Gunther (Illinois) (Dec 3-1)

1st Place Match – Nelson Brands (Iowa) won by decision over Dan Braunagel (Illinois) (Dec 3-1)
Gold Division (Open) 197
Champ. Round 1 – William Miklus (Iowa State) won by fall over Cade Brownlee (Iowa) (Fall 0:25)

Cons. Round 1 – Drew Mccollum (Hannibal-LaGrange (MO)) won by fall over Cade Brownlee (Iowa) (Fall 1:24)
Gold Division (Open) 285
Champ. Round 1 – Tony Cassioppi (Iowa) received a bye () (Bye)

Champ. Round 2 – Tony Cassioppi (Iowa) won by major decision over Jacob Bohlken (Missouri) (Maj 9-1)

Quarterfinal – Tony Cassioppi (Iowa) won by fall over Dustin Politte (Maryville University) (Fall 1:08)

Semifinal – Tony Cassioppi (Iowa) won by fall over Colton McKiernan (Southern Illinois Edwardsville) (Fall 2:03)

1st Place Match – Tony Cassioppi (Iowa) won by fall over Gannon Gremmel (Iowa State) (Fall 4:20)