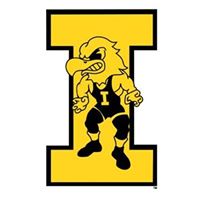 Incoming Iowa freshman Anthony Cassioppi rolled to a Gold medal at the 2018 Junior Pan American Wrestling Championships in Fortaleza, Brazil.  After winning his first three matches by tech fall, Cassioppi pinned Bojorquez of Mexico in 1:23 to win the Greco-Roman title at 130 kg.  Last year Cassioppi won a Gold in both the Greco-Roman and Freestyle Pan Ams.
Cassioppi, from Hononegah High School (Roscoe, IL), will be a true freshman when classes begin next week.
Cassioppi and Iowa teammate Jeremiah Moody (74 kg) will compete in the Freestyle portion of the Junior Pan Ams beginning at 8 AM CST Sunday.
Sunday, August 19: Men's Freestyle
Qualification Rounds and repechage:  8AM CST
Finals: 4 PM CST
It is great to be an Iowa Wrestling fan.
Go Hawks!
GR 130 kg
Round 1 – Anthony Lawrence Cassioppi (UNITED STATES) won by tech fall over Samir Mauricio Vargas Valor (COLOMBIA) (TF 8-0)

Round 2 – Anthony Lawrence Cassioppi (UNITED STATES) won by tech fall over Andrew Jeffrey Gunning Alegre (PERU) (TF 9-0)

Round 3 – Anthony Lawrence Cassioppi (UNITED STATES) received a bye () (Bye)

Championship Bracket – Anthony Lawrence Cassioppi (UNITED STATES) won by tech fall over Diego Jesus Almendras Rodriquez (CHILE) (TF 9-0)

1st Place Match – Anthony Lawrence Cassioppi (UNITED STATES) won by fall over Paul Baltazar Morales Bojorquez (MEXICO) (Fall 1:23)