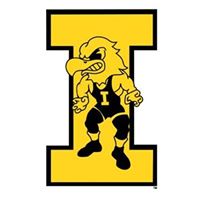 Nothing says the end of summer quite like the release of the Iowa Wrestling schedule.  For us Iowa wrestling fans, this is just another boost to get you looking forward to the season.  Iowa will yet again have another great home slate that begins with the Iowa City Duals on November 17.  North Dakota State has been added to the field this year and is a strong up and coming team.  The Hawks will have home meets against Rider and Illinois before heading out east to face Rutgers and Maryland.  You can count on Iowa to be at the always tough Midlands between the holidays at the end of December.  
The Hawks will face tough competition every week, just as you would expect.  Iowa will host Oklahoma State on January 12 followed by traveling to Ohio State on January 19.  Michigan will be nationally ranked very high in the pre-season and they will come to Carver on January 28.  Minnesota is always a tough dual as they come to Iowa City on February 2 and then a roadtrip to face Northwestern on the February 4.  Iowa closes out the Big Ten slate by travelling to Penn State on February 9 followed by wrestling at Iowa State on February 18.  Look for the Iowa – Iowa State dual meet to be much more intense this year as the rivalry is back in force.
Iowa has only two weekends with two dual meets.  That is very rare.  Also, there will not be a National Duals held this season.
Iowa should yet again have good coverage with the Big Ten Network.  I was very happy with the coverage I had on away dual meets as a Big Ten Network premium subscriber.  I am hoping that the Iowa – Iowa State dual meet will be picked up for TV as well.  There is really no reason that we as fans cannot see every Iowa wrestling meet, home and away, at least online.  I would also like to see much more coverage of the Big Tens on BTN.  Every round of that great tournament should be on TV.
The University of Iowa will host the 2018 UWW World Cup.  The official date has not been set.  It will be held either on April 7-8 or April 21-22.  This will be an amazing opportunity to see the greatest wrestlers in the entire world compete in our own backyard.  I will keep you posted.
This should be another great year of Iowa Wrestling.  Iowa Wrestling fans have flexed their muscles as the greatest fans in the world and showed up to support Iowa Wrestling like no other program in any sport.  Iowa has led the nation in attendance for the past eleven consecutive years.  That is every year that Tom Brands has been the head coach.  I see no reason for the Iowa Wrestling fans to give up that title this year.
It is only August, but every month is wrestling season when you are an Iowa Wrestling fan.
It is great to be an Iowa wrestling fan.  
NOV 17 (FRI) IOWA CITY DUALS   IOWA CITY, IOWA
NORTH DAKOTA STATE, UNIVERSITY OF BUFFALO, IOWA CENTRAL CC
NOV 24 (FRI) / TBA VS RIDER UNIVERSITY IOWA CITY, IOWA
DEC 1 (FRI) / TBA BIG TEN VS UNIVERSITY OF ILLINOIS IOWA CITY, IOWA
DEC 8 (FRI) / TBA BIG TEN AT RUTGERS UNIVERSITY PISCATAWAY, NJ
DEC 10 (SUN) / TBA BIG TEN AT UNIVERSITY OF MARYLAND COLLEGE PARK, MD
DEC 29/30  MIDLANDS CHAMPIONSHIPS  EVANSTON, IL
JAN 5 (FRI) / TBA BIG TEN VS MICHIGAN STATE UNIVERSITY IOWA CITY, IOWA
JAN 12 (FRI) / TBA VS OKLAHOMA STATE UNIVERSITY IOWA CITY, IOWA
JAN 19 (FRI) ­ JAN 21 (SUN) BIG TEN AT OHIO STATE UNIVERSITY COLUMBUS, OH
JAN 26 (FRI) ­ JAN 28 (SUN) BIG TEN VS UNIVERSITY OF MICHIGAN IOWA CITY, IOWA
FEB 2 (FRI) / TBA BIG TEN VS UNIVERSITY OF MINNESOTA IOWA CITY, IOWA
FEB 4 (SUN) / TBA BIG TEN VS NORTHWESTERN UNIVERSITY IOWA CITY, IOWA
FEB 9 (FRI) ­ FEB 11 (SUN) BIG TEN AT PENN STATE UNIVERSITY PARK, PA
FEB 18 (SUN) / TBA AT IOWA STATE UNIVERSITY AMES, IA
MARCH 3 – 4  BIG TEN CHAMPIONSHIPS EAST LANSING, MI
MAR 15 – 17  NCAA NATIONAL CHAMPIONSHIPS  CLEVELAND, OH