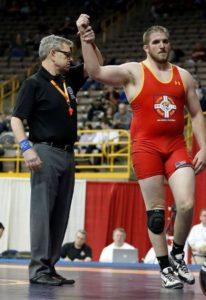 Bobby Telford. Nathan Burak, and Nick Dardanes of the Hawkeye Wrestling Club will be competing at the Paris International Tournament.  Dardanes will be competing at 65 kg on Friday, January 27. Telford will be competing at 125 kg and Burak at 97 kg on Saturday, January 28.
The tournament will take place at the Olympic Center in Paris, France.  The tournament will include men's freestyle, Greco-Roman, and women's freestyle.  Team USA Freestyle will have eighteen wrestlers competing.
Telford and Dardanes both won titles at the Simon Fraser International Clansman Open on December 3, 2016.  Telford was a three-time All American for the University of Iowa at Hwt.  Burak was a three-time All American for Iowa at 197 lbs.  Dardanes was an 141 lbs. All American at Minnesota.  Nick and his twin brother Chris Dardanes joined the Hawkeye Wrestling Club last May.
Lisbon High School grad Rob Williamson will be the referee representing Team USA.
I will keep you posted on results.