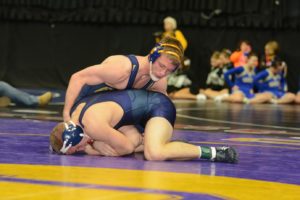 The Iowa Wrestling program will be well represented at Junior Freestyle Duals in Tulsa, OK this weekend. Incoming Iowa Wrestling recruits Zach Axmear at 152 lbs.(English Valley HS) and Aaron Costello at Hwt (Western Dubuque HS) will be competing for Team Iowa – Red. Costello will also be competing in Greco Roman. Greco Roman duals will be on Wednesday and Thursday and Freestyle on Friday and Saturday.
Axmear and Costello are in the outstanding Iowa Wrestling Recruiting Class of 2017 that was rated as the best recruiting class in the country.
Iowa Wrestling assistant coach Ryan Morningstar will be a coach on the Iowa freestyle team.  Coach Morningstar has been a fixture in the Team Iowa coaching corner for Junior Freestyle Duals as well as Cadet and Junior Freestyle Nationals in Fargo for years.
Junior Freestyle Duals and Junior Nationals in Fargo are the two marquee' events of the entire summer.  These two events go a long way in high school wrestlers making a name for themselves or adding to their already established reputation.
I will post results on Facebook https://www.facebook.com/IowaWrestlingFan/ and Twitter: https://twitter.com/iawrestlingfan   
2017 JUNIOR NATIONAL DUALS
at Tulsa, Okla., June 21-24
Wednesday, June 21      
9:00 AM to 12:30 PM – Session 1 – Greco (Preliminary rounds 1 and 2)
1:30 PM to 7:00 PM – Session 2 – Greco (Preliminary rounds 3, 4 and 5)
Thursday, June 22
8:00 AM to 12:00 PM – Session 3 – Greco Gold/Silver, Bronze/Copper, Red/Blue, Green/Yellow (3 rounds)
1:00 PM to 5:00 PM – Session 4- Greco Finals and awards (1 round)
Friday, June 23
8:00 AM to 12:30 PM – Session 1 – Freestyle (Preliminary rounds 1, 2 and 3)
1:30 PM to 8:00 PM – Session 2 – Freestyle (Preliminary rounds 4, 5 and 6; preliminary Gold/Silver, Bronze/Copper, Red/Blue, Green/Yellow)
Saturday, June 24
9:00 AM to 3:00 PM – Session 3 – Freestyle Finals and awards (3 rounds)