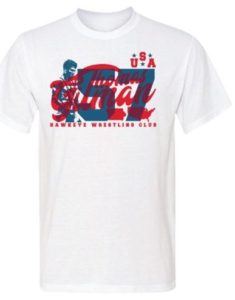 Thomas Gilman had an epic run at the World Team Trials last week to make our 2017 freestyle world team.  Now fans can buy a great shirt to show their support of Thomas Gilman and the Hawkeye Wrestling Club.  
The Hawkeye Wrestling Club, Mark Ironside's company, Ironsides Apparel and Promotions, and former Iowa wrestler Jeret Chiri, who designed the shirt, have worked together to create a great shirt for fans to buy and show their support.  Proceeds of the shirt will go to supporting Thomas Gilman and his family make the trip to Paris for the 2017 World Freestyle Championships in August.
You can order online or stop by Mark Ironside's shop at 240 Prospect Place SW in Cedar Rapids to make your purchase.  The shirt will be available at the store and for shipping this Thursday, June 22.
To order online:
http://www.iowa247365.com/Thomas_Gilman_Hawkeye_Wrestling_Club_Tee_White_p/gilman302.htm
Thomas Gilman put on an amazing display of endurance and toughness to make our world team and represented Iowa Wrestling so well for his entire career.  I cannot wait to get my shirt and to show my support.
I am always saying that Iowa Wrestling fans are the best fans in the world, in any sport. Here is a way to show how great we truly are.
It is great to be an Iowa Wrestling fan.
Go Hawks!