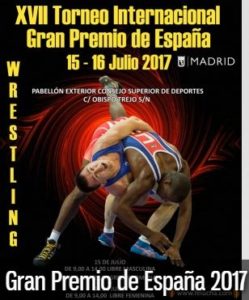 Thomas Gilman from the University of Iowa will represent Team USA at the Grand Prix of Spain in Madrid this weekend.  Gilman recently won the 57 kg division to make our World Freestyle team.  This tournament will serve as a tuneup for the Freestyle World Championships in Paris, France at the end of August.
Iowa Assistant Coach Terry Brands is on the coaching staff for Team USA that will have all but one of our top ranked freestyle wrestlers competing.
The information released by the Hawkeye Wrestling Club has GIlman wrestling on early Saturday morning, July 15 from 2 AM – 7:30 AM CST.
Live Broadcast– http://noasports.tv
I will be posting Gilman's results on:
Facebook: https://www.facebook.com/IowaWrestlingFan/
Twitter: https://twitter.com/iawrestlingfan
U.S. men's freestyle roster
57 kg/125 lbs. – Thomas Gilman, Iowa City, Iowa (Hawkeye WC)
61 kg/134 lbs. – Logan Stieber, Columbus, Ohio (Titan Mercury WC/Ohio RTC)
65 kg/143 lbs. – Zain Retherford, Benton, Pa. (Nittany Lion WC)
70 kg/154 lbs. – James Green, Lincoln, Neb. (Titan Mercury WC/Nebraska WTC)
74 kg/163 lbs. – Jordan Burroughs, Lincoln, Neb. (Sunkist Kids WC/Nebraska WTC)
97 kg/213 lbs. – Kyle Snyder, Woodbine, Md. (Titan Mercury WC/Ohio RTC)
125 kg/275 lbs. – Nick Gwiazdowski, Raleigh, N.C. (Titan Mercury WC/Wolfpack RTC)
It is great to be an Iowa Wrestling fan.