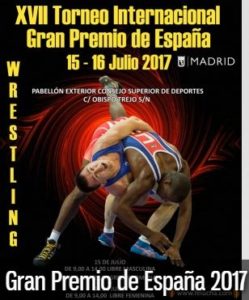 Thomas Gilman of the University of Iowa had an impressive showing in winning the Grand Prix of Spain. Competing at 57 kg for Team USA, Gilman was in his normal attack mode and put the big points on the board with wins of 10-5, 15-2, and 10-2. Seven of our eight number one wrestlers for Team USA competed in the tournament and all won their weight class.  
This tournament was seen as a tuneup for the World Freestyle Championships that will be in Paris, France in the end of August where Gilman will make his debut on Team USA.  I would think that the experience of a training camp, similar travel process, and the experience of being on the number one team will help Gilman in preparing for the World Championships.
Iowa Assistant Coach Terry Brands was a member of the coaching staff.
57 kg/125 lbs. – Thomas Gilman, Iowa City, IA (Titan Mercury WC/Hawkeye WC), Gold
WIN Steven Takahashi (Canada), 10-5
WIN Levan Metreveli (Spain), 15-2
WIN Zoheir El Ouarraque (France), 10-2
61 kg/134 lbs.  Gold – Logan Stieber (United States)
65 kg/143 lbs.  Gold – Zain Retherford (United States)
70 kg/154 lbs.  Gold – James Green (United States)
74 kg/163 lbs.  Gold – Jordan Burroughs (United States)
97 kg/213 lbs.  Gold – Kyle Snyder (United States)
125 kg/275 lbs.  Gold – Nick Gwiazdowski (United States)