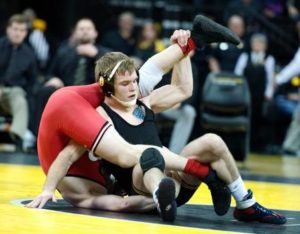 After tough, the best word to describe Brandon Sorensen is consistent.  You just do not see Brandon Sorensen have a bad day.  This guy works hard every practice, every match in competition, and in the classroom.  Sorensen is successful in all three areas.  On the mat, entering his senior season he is on track to be a rare four-time All American by placing fourth as a freshman, second as a sophomore, and third as a junior at 149 lbs.  In his first three seasons, Sorensen has an impressive 100-13 record.  
In the classroom, Sorensen has been named Academic All American and All Big Ten several times throughout his career including last season.  In the room, Sorensen leads by example with hard work on every go, every day.  Brandon Sorensen is someone you can count on to perform every time.
What are your thoughts heading into your senior year as an Iowa Hawkeye?
Brandon Sorensen: Let's get it done.  That's the main thing.  Do it right and let's get it done.
Last year Iowa had a lot of seniors and now you will be looked to for leadership.  What do you bring to the table for senior leadership on this year's Iowa Wrestling team?
Sorensen:  Being a good example.  It's not just me and senior leadership.  There's Kemerer, he's going to be a sophomore. There are a lot of guys really with Marinelli. There are a lot of examples here to look at and keep the guys on the right path and moving forward.
Who is your favorite teammate to watch wrestle?
Sorensen:  That's a tough question.  I liked watching Gilman,  That's a guy that just goes out and puts in all on the line.  Then you have Brooks who lets it fly.  A guy like Gilman goes out there and gives it everything he has.  Both different but both entertaining.  For this year's squad, I am excited to see some new guys in there.  I do not know what the team is doing with redshirting some guys or not.  So I am excited to see some guys there.  Marinelli, obviously Kemerer, he's fun to watch and solid.  He gets in those scrambles that are exciting.  So again, a lot of good guys.  You cannot forget about Stoll either that is going to go out there and put it on the line.  
You are in line to be Tom Brands' third ever four-time All American.  Was that a goal when you came in?  Do you ever think about career stats and accomplishments?
Sorensen: I will think about that when my career is completed. My goal is to win titles.  I have one year left to do that and that's what we got to do.
The Hawkeye Wrestling Club is close to doubling in size with a lot of new additions.  What has the Hawk Club meant to you in your career to prepare for competition?
Sorensen:  We have a lot of guys coming in.  Great training partners and it gives guys a future to look forward to.
What type of an impact did Gilman and Clark have on you and to the program, especially with how they ended up their careers as Iowa Hawkeyes?
Sorensen:  Big.  You look at a guy like Clark who was down maybe a little bit with his injuries and still fought and there's an example.  A guy like Gilman that is fun to watch.  He is like the typical Iowa wrestler.  He goes out there and puts everything on the line, pushing forward at a high pace.  So lot of good examples there.  A lot of good words talking to them and that helps me move forward and helps me in a leadership role.
You were an academic All American last year.  What is your major and could you tell us how important academics are to you?  What are your plans for after college?
Sorensen:  My major is Sports and Rec Management.  Academics ties in with wrestling.  It's huge.  You do good on the mat, you do good off the mat.  You do bad on the mat you do bad off the mat.  It works together.  After school, the plans so far is to stick around and keep wrestling and then there is always a degree to fall back on.
Looking back, have you seen any changes in the Iowa Wrestling program over the last four years?
Sorensen:  There is still the same goal and that is to get the national title.  We just gotta get it done.  Some differences is that I have been there and I know what it is about.  The experience, which is huge.  
You wrestled in the record breaking Grapple on the Gridiron and in front of the biggest crowds in college wrestling for your career here at Iowa.  What has it been like wrestling in front of the Iowa Hawkeye wrestling fans?
Sorensen: Great.  There is a reason why we get up and a reason why we wrestle.  It's great to have that big following.  Let's continue that and let's put a show on for them.