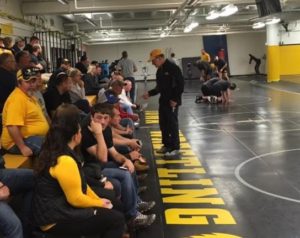 Iowa Wrestling will have an Open Mat on Saturday morning before the football game.  An Open Mat is an unsupervised voluntary workout for Iowa and Hawk Club wrestlers.  There will be some very entertaining hard wrestling going on, as always. There was a very good crowd of fans in the Iowa Wrestling room before the football season opener on Saturday, September 2.  Iowa wrestlers were taking pictures and signing autographs with fans after their workout. This is a great opportunity to get as close a look at Iowa wrestling as you can get. Let's get another good crowd in there on Saturday.
The doors of the Dan Gable Wrestling Complex will be open at 9 AM Saturday and the workouts will be between 9:30 AM and 11 AM.  The bleachers will be pulled out and fans are welcomed to to attend.
Iowa Football has a home game against North Texas at 2:30 PM.  Tickets are still available for the football game through the University Ticket Office.
I know that for many football fans, making their way to the Iowa Wrestling room is a big part of their gameday experience.
Hope to see you there.
It is great to be an Iowa Wrestling fan.