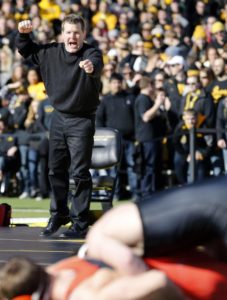 This is an exciting time of the year for Iowa Wrestling fans.  The incoming recruits are now in the room and classes have started.  A number one ranked recruiting class in the country entering the room is something special that gets fans anxious for the upcoming season. To up the notch of interest even more, the performance by Thomas Gilman and Team USA at the World Championships bumps up the excitement a big notch or two.
The best place to start is at the top with head coach Tom Brands.  As always, Coach Brands is very upfront with his answers.
Coach Brands, first of all your reactions to Thomas Gilman bringing home the Silver from the World Championships.  That was great wrestling by Gilman.  Great news for Iowa Wrestling and for Team USA that won their first team title since 1995 when you and Terry were on the team.
Tom Brands: Good for Gilman, that's all I got to say.  When I say good for Gilman, we all know that's not where he wanted to be.  That's not where we wanted to be. We haven't lowered our standards.  That is a big deal and it's been a long time since a Hawkeye won a medal of any color.  We want gold, gold, gold but Gilman being right out of college is a great start to his Olympiad.  The next three years now he needs to keep getting better and put him in positions to duplicate and succeed.
Iowa City and the University of Iowa is hosting the World Cup in April.  I am sure that the success of Team USA winning the World Championships and Thomas Gilman's World Silver will add to that.  I am expecting a sellout.  What does it mean to your program and the University to have the Olympic Trials and now the World Cup?
Brands: There's three reasons to get excited about the World Cup. One is USA just won a team title.  Number two is Thomas Gilman and the vast number of Hawkeye Wrestling Club members that could potentially represent the USA. Depending on what happens with the lineup.  And then the third thing is the new weight classes.  UWW has added two new weight classes, 79 kg and 92 kg.  So in the upper weights, you're gonna see potentially a lineup that from 74 kg up is going to be Burroughs at 74, Dake at 79, Taylor at 86, Cox at 92, Snyder at 97, and Gwiz at Hwt.  That's a lot to be excited about.  That adds to the US winning the team title with the Hawkeye flavor. Now it's spread out more to get those guys in for opportunities.  I am sure that is what USA Wrestling is thinking.  We're going to put our best team on the mat and it will be a team to deal with.  You're looking at Gilman, Stieber, Retherford, Green, and all of the guys I mentioned.  That's a lineup.  It's exciting.  
Could you tell us about your new addition to the Hawkeye Wrestling Club, Alli Ragan.
Brands: Alli Ragan is a World Silver medalist this year.  We are excited to have her.  She is someone that has a like-minded mentality.  I have seen interviews where she talks about some losses she has had and the tough times she has went through in the sport and how she dealt with it is in line with the way that I think.  I read the article after her Olympic Trials loss and how she had to decide whether she was going to wrestle in the World's last December.  How she dealt with it and moved forward.  She got tough and made it through a tough time.  She will be a natural addition to what we do here and join Lauren Louive as a women's freestyle wrestler in the Hawk Club.  We're excited about that.
What do you have coming up this fall for the Hawkeye Wrestling Club?
Brands: We have our Des Moines Golf Outing September 21 and HWC Shoot on October 14 at the Highland Hideaway Hunt Club near Riverside.  We have a new energy in Des Moines.  We have always had good support there but we have a group of people that have really stepped up.  No is never the answer for these folks and we love it.
Last year you had it in the end of October.  When will be your huge weekend for recruits coming into town this year?  That is a huge weekend for us Iowa Wrestling fans.
Tom Brands: Our big recruiting weekend is the weekend of September 23 .  We are looking forward to that.  We have the Penn State home football game.  We have a lot of great things happening there as well.  We're beating the bushes down.  We have some commitments already and we need to keep adding to them.  
Your schedule came out for the upcoming season.  You have led the country in attendance every one of the eleven years you have been the head coach here at Iowa. What is the key to Iowa leading the country in attendance this year for a twelfth consecutive year?
Brands: Well the first thing is you have to be dedicated to winning and we gotta win.  If we win I think it's automatic.  We have to be entertaining.  I think our fans show up because they know we are going to have a product out there that guys are going to compete hard.  It doesn't mean that every match every time is going to be exactly what they want. But I can guarantee that the message will be communicated.  We have a group of young guys with Gunther, Wilcke, and Holloway and even Stoll who is not a young guy anymore as a junior.  Add Vince Turk to that and you have a group of young guys that are becoming veterans.  Do they want more? Well ask them the question.  We are anticipating that they are getting better and have a bad taste in their mouth to erase.  
Then add guys like Marinelli and Kaleb Young, guys like that haven't been in the lineup and are going to factor into this.  You look at Kemerer and Brandon Sorensen, the two leaders we have.  They are our team captains and we're excited about those two guys.  Sorensen is a senior.  And then look at Warner, Lee, and Max Murin and that group.  You got Costello, you just got a lot of good things going.  Myles Wilson.  We're excited.  
You welcomed in the number one recruiting class in the country for incoming freshman.  Fans have been wondering if they are going to be redshirting or if we will see any of them in the lineup this year.  When will you know one way or the other if they will be wrestling this year?
Brands: I am never going to answer that question, but I will say this.  We will put our best team on the mat based on what is best for the individual first and then what is best for the team.  If that individual has taken a redshirt and has four, three, two, or one year of eligibility, we will put the best individual on the mat.  If the individual has four years and a redshirt, for example Spencer Lee, then we're going to make the best decision based on what's best for Spencer Lee first.  That is just the way you gotta do it.  It's an individual sport and we want to take care of our guys and they are number one to me, they are number one to this program.  We will always be that way in philosophy.  
Can you tell me the impact to your program what Cory Clark and Thomas Gilman have had in how they ended their careers as Iowa Hawkeyes.  
Brands:  We're not done yet.  Sammy Brooks is getting ready for the Under 23 World Trials.  We're not done yet.  We gotta win.  We're always gonna have guys that are entertaining to watch.  There's some pieces to the puzzle that when you look at our lineup we have two returning All Americans.  Everybody kind of panics.  When you look at our lineup, there's some potential in there.  The guys that are not tested yet like Marinelli. Potential down the road with Warner, Lee, Murin and Wilson. And then the commitments we have for this year.  There's a lot of reasons to be excited about our untested wrestlers.  We're excited about that.  
I am really looking forward to seeing Patricio Lugo who transferred in from Edinboro.  He looks to be a tough athlete with a lot of potential.
Tom Brands:  We're really not talking about him right now but we should be by being a part of that recruiting class.  He will probably redshirt this year, that's the plan.  He is fully integrated into our system and program.  He is everything you would like a Hawkeye to be.  He comes from a club that teaches the same mentality. We are excited about him and he is excited to be here.  We consider him a part of the incoming recruiting class mainly because most if not all of that class will redshirt.  He's going to be redshirting as well so he is right alongside of those guys.  Lugo has a redshirt and two years of eligibility remaining.  We really like him.