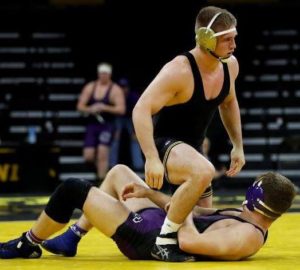 The first word I use to describe Iowa wrestler Cash Wilcke is athlete.  From what I have seen of Wilcke in the room and  in competition, you see flashes of explosiveness, balance, quickness, and strength of an overall athlete.  When I see that in a wrestler, I always think there is potential for much more than what I am seeing for results.  There is no limit to what an athlete in the sport of wrestling can do because athleticism is something you cannot  coach. Either a wrestler has it or they do not.  Cash Wilcke has it.
Wilcke finished last season very strong.  After placing eighth at Big Ten's, Wilcke earned an at-large bid at 197 after a wrestler had to withdraw from the NCAA's due to injury.  That may turn out to be the turning point in Wilcke's career as he took full advantage of his opportunity at nationals.  After a first round win over the fifteenth seed, Wilcke dropped a 4-1 match to the fourth seed.  He then won back to back matches by decision and then dropped a 7-6 match in the Round of 12, aka – The Blood Round.  It was Wilcke's performance at the end of the year that showed how much he had developed throughout the season.  As a freshman basically wrestling up a full weight class, he found himself an eye blink away from being an All American.  
In high school Wilcke was a successful four sport standout at OA-BCIG in Ida Grove, Iowa in wrestling, football, baseball, and track.  When it takes the towns of Odebolt, Arthur, Battle Creek, and Ida Grove to make a school that is still 1A, we are talking small towns.  Being from a small town myself, I take notice of Iowa wrestlers from small towns.  I cannot recall more than a couple of 1A wrestlers from western Iowa over the years.
I just believe that what we saw last year was a tip of the iceberg so to speak of what Cash Wilcke can become as an Iowa Wrestler.  You can tell by the way he carries himself that he is more confident and ready to go this year.  It will be interesting to see how the last year has shaped and formed Wilcke as a wrestler.  In my opinion, nobody has developed more from the Iowa Wrestling strength program than Wilcke over the last two years.  I believe the potential is definitely there for Cash Wilcke to be an elite wrestler.  Now we need to see the results on the mat.  Should Wilcke continue to develop like he did last season, I am confident that we will.
How did making it to the Blood Round in the Round of 12 at the NCAA's last year help you prepare for this season?
Cash Wilcke: It helps a lot for this year and adds fuel to the fire.  I worked a lot harder in the off season this year than I did last year so I know I am right there.  I have been working hard this summer to get up there this year.
What weight are you going to compete at this year?
Wilcke: 197.  
How did your background of coming from a small town and 1A school and playing multiple sports help prepare you for college?
Wilcke: I played a lot of other sports in high school.  When I was playing other sports I was locked in and zoned in on just that sport.  Coming here it is wrestling all year around and that was the biggest difference from high school.  I have got a lot better in just the last two years I have been here.
What is your major and what are your plans for after college?
Wilcke: I definitely want to stay here and wrestle after college.  My major is Sports and Rec Management.
Who is you favorite teammate to watch wrestle?
Wilcke: I love watching Kemerer wrestle.  He was my roommate last year and is fun to watch and he scores a lot of points.  And I like watching Stoll wrestle too.
Who is your favorite Iowa wrestler of the past that you like to watch tape of or hear stories about?
Wilcke: Lincoln McIlravy.  He's got a nice Boot Scoot and ducks and that type of stuff and that's right up my alley and I love that stuff.  
What are your goals for your wrestling career?
Wilcke: National championships.
What is your favorite part of being an Iowa wrestler?
Wilcke: Wrestling.
What has your experience been like as an Iowa Hawkeye?
Wilcke: It's unbelievable.  I cannot imagine wrestling anywhere else.  This is awesome.  
What are you looking forward to most this season?
Wilcke: Going to war with my dudes.  It should be fun this year because I have more experience and I already know what it is going to be like.  Last year was kind of experimental, but I had some good leadership last year.  Hopefully I can show the younger guys this year what the older guys showed me last year.